Mighty Cranes is the number one choice for affordable crane hire Brisbane, Redlands, and Logan wide. We operate 24 hours a day so you can rely on Mighty Cranes to provide reliable crane hire whenever you need it. From emergency lifts for excavator rollovers to large scale city construction projects, and even moving oversized furniture into an apartment building, we do it all! Call Mighty Cranes anytime on 0477 000 976 for all of your crane hire needs.
Our Versatile Fleet
There are a range of different mobile cranes available, each built for a different purpose. Choosing the right crane for the job is the key to any successful lift. That's why we provide a versatile fleet of mobile cranes suitable for any job including Franna cranes, all terrain cranes, and rough terrain cranes.

A Franna crane is a compact crane that is suitable for limited access lifts. Due to the compact size of Franna cranes they are able to carry out lifts on crowded construction sites where space is limited without sacrificing on lifting power.
All terrain cranes are one of the most versatile mobile cranes available. As the name suggests, all terrain cranes are designed to drive on public roads as well as operate where other cranes cannot, including on unaltered surfaces and in varying weather conditions.
Rough terrain cranes are designed to carry out lifts on sites that other cranes could not even access including on sites with no road access as well as on steep grades and uneven ground. Equipped with off-road tyres and with the ability to switch between 2 wheel and 4 wheel drive when needed, rough terrain cranes are ideal for use where other cranes cannot perform a stable lift.
24/7 Availability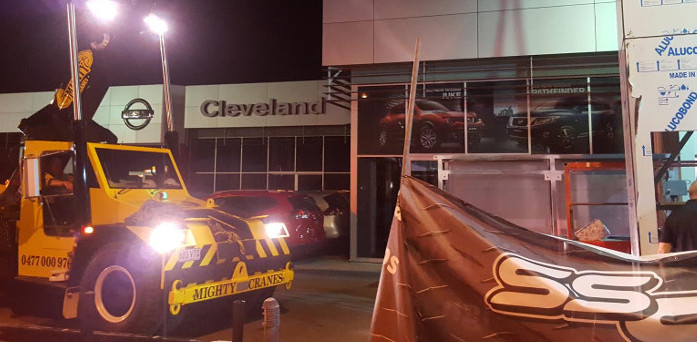 Our experienced team of crane operators are fully trained and qualified and on call 24/7 for all of your crane hire needs. We provide crane hire across a range of industries, from air conditioning plant lifts to building materials and plant lifts – no job is too big or small. For cheap crane hire services completed to the highest standard at any time of day, Brisbane, Redlands, and Logan wide, Mighty Cranes is the number one choice.
Reliable Crane Hire – Affordable Prices
As a locally owned and operated crane hire company, Mighty Cranes is proud to provide reliable cheap crane hire at affordable prices with Franna hire starting from as little as $145/hr*. If you want a crane hire company that you can rely on 24/7 choose Mighty Cranes. Call us today on 0477 000 976 or fill out our contact form and we'll get back to you as soon as possible.
*Terms and conditions apply. For a detailed list of our crane hire prices click here.