Two of the biggest problems for contractors and construction projects is blowing the budget and not meeting the time frame of the project. A crane is a staple item at any construction site from home renovations to skyscraper constructions, however, many contractors fail to take advantage of the time and money saving benefits of reliable mobile crane hire services.
Mobile cranes are compact and highly versatile machines with the potential lifting capacity to match that of tower cranes, that's why mobile crane hire is the economical choice for contractors. If you need a crane for your next construction project, hire a reliable mobile crane with Mighty Cranes Franna and City crane hire Brisbane. Call us anytime on 0477 000 976 for a free quote and comprehensive lift plan.
Reduce Overhead Costs
Hiring a mobile crane for your next project will significantly reduce your overhead costs. Not only will you save on the high upfront cost of purchasing your own crane. When you hire a crane, the crane hire company takes care of everything for you including all crane maintenance costs and repairs as well as storing the crane when not in use. Additionally, if you require different types of cranes for different lifts it is much more economical to hire than purchase.
This means that you will save the money, and time it takes to purchase and maintain a mobile crane which will help ensure that your project is completed on time and in budget.
All Equipment is Provided
Another benefit of mobile crane hire is that wet-hire crane hire companies will provide the crane and operator as well as any other equipment that may be needed for the lift. Mighty Cranes also provides fully trained riggers to ensure that every lift goes off without a hitch and is completed to the highest standard.

Increased Flexibility
Mighty Cranes mobile crane hire offers maximum flexibility with 24/7 crane hire availability to suit the time constraints of any job, and in a construction project, time is money. We have a range of different mobile cranes available for hire to suit the requirements of your job and ensure that each lift is completed as quickly and safely as possible.
Whether you need a Franna crane to taxi materials from one side of the construction site to the other or a rough terrain crane for a construction site with no road access, we've got you covered.
Highly Trained Crane Operators
Wet-hire mobile crane hire also comes with the added benefit of a highly trained and experienced crane operator. This is important as the operation of any heavy machinery can have fatal consequences with a single mistake. Mighty Cranes crane operators are operating cranes day in, day out, so you can rest assured that they are highly experienced in a range of jobs and industries and know exactly what they're doing.
Choose Mighty Cranes – City & Franna Hire Brisbane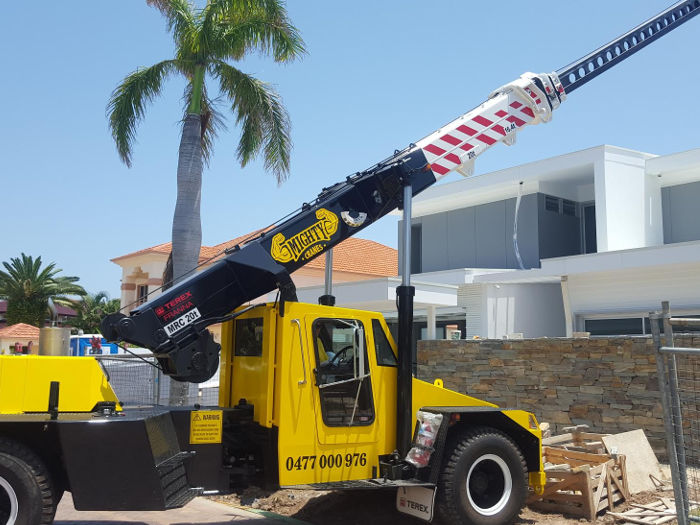 The Mighty Cranes difference is the amount of care and planning we put into each lift to ensure that the job is completed as quickly and safely as possible. If you need reliable Brisbane crane hire services that will help keep your project on schedule and in budget, choose Mighty Cranes. We offer 24/7 crane hire services for all of your mobile crane hire needs. Call us today on 0477 000 976 to claim your free quote and comprehensive lift plan.