For a free quote on lifting your furniture into an apartment call 0477 000 976 or fill out our contact form and we will get back to you.
How To Make Moving From A House To An Apartment Easy
Moving house is never an easy task. From sorting, packing, relocating everything you own, and hiring the right people for the job, moving house can often seem overwhelming. Downsizing from a house to an apartment can become an even bigger task without the right tools at your disposal. This guide will help you have an organised, easy move, and cut out the guess work involved in moving house.
1. Downsize Your Belongings
The first thing you will need to do is get organised! You will have to decide what is coming with you to your new apartment. This step is especially important when moving from a house to an apartment, as you most likely won't have a double garage or large storage cupboard that you would generally get living in a house.
2. Garage Sale
Next you will need to decide what to do with everything that you aren't taking with you when you move, whether you plan to sell it, give it to charity, or throw it away. Most people own a few things that they don't use anymore, but are still in good condition. A great way to get rid of these unnecessary items, and get a little extra cash as a bonus, is to host a garage sale, or even sell them online through gumtree, ebay, or similar websites.
3. Storage Solutions
Another thing you will need to consider is finding some creative storage solutions. The size and lack of storage opportunities of apartment living call for some creative ideas of where and how to store your things. Using multi functional furniture such as; a coffee table with storage underneath or placing decorative baskets on bookshelves that can double as aplace to store kids toys and knick-knacks, is a great way to store your belongings to hide the clutter without taking up the minimal cupboard space.
Other practical storage solutions include under bed, couch and large furniture storage, hiring out a storage space or even asking a family member or friend with a large garage or unused tool shed to store some things for you.
4. Take Measurements
The next thing you will need to do is make sure all of your furniture will fit. Your apartment will most likely be significantly smaller than the house you're moving from so you will need to map out a rough idea of which room you want each piece of furniture in and then measure the rooms and the furniture to ensure that it will all work.
5. Moving Large Furniture
You will also need to take into account how the larger pieces of furniture will be moved, as many buildings will have narrow staircases and small elevators. Some of your furn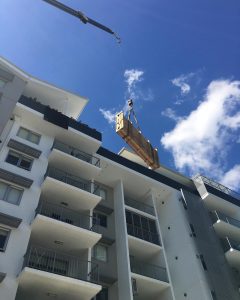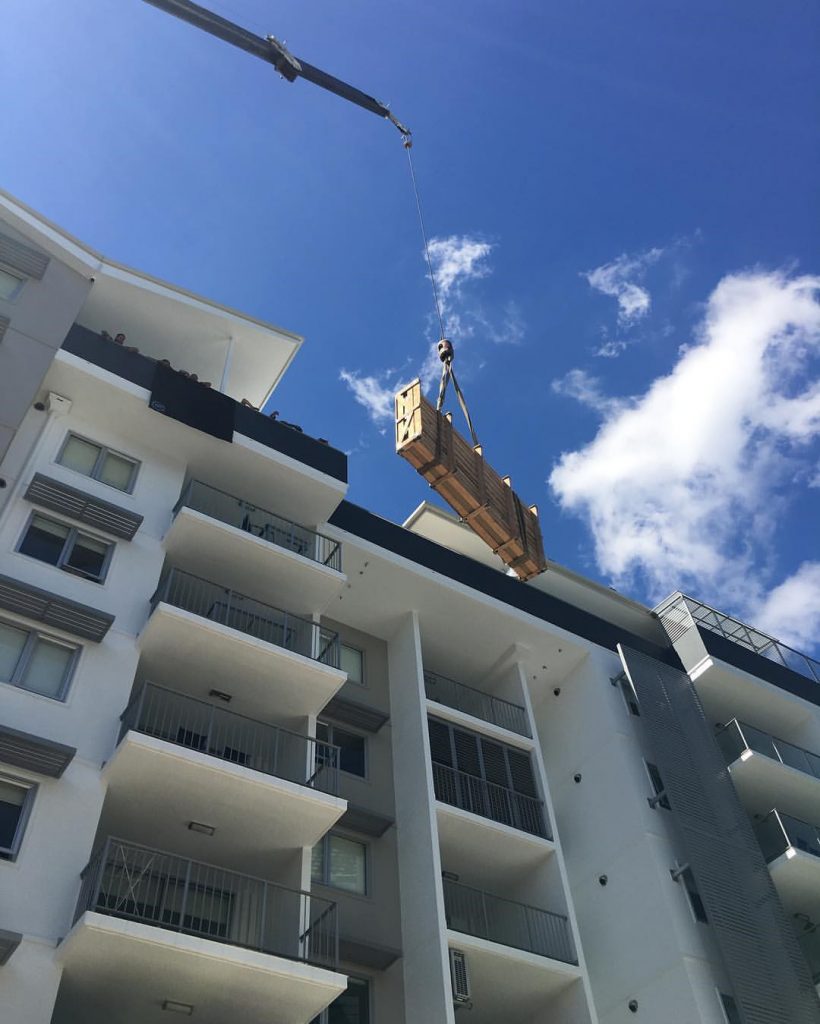 iture may be too heavy to be lifted up multiple flights of stairs or too bulky to be maneuvered. A wrong decision may lead to your moving day becoming a moving weekend, damage to expensive pieces of furniture, and possibly the walls of the apartment building at your expense.

At this point you may consider using a crane hire company to take the stress and heavy lifting of your move out of your hands such as Mighty Cranes. Mighty Cranes is a professional and precise Brisbane crane hire company who specialise in lifting and shifting heavy furniture.
A precise crane lift will have your prized possessions, like your heavy marble dining table, or your grand piano, into your fifth floor apartment within millimetres of where you want them and completely undamaged.
6. Moving Day
You may also want to advise the property manager of the time and day that you will be moving to ensure availability and/or accessibility of the elevator or staircase on that day.
7. Enjoy
Okay, so now you're completely prepared to plan and execute a seamless transition from living in a house to apartment life. All that is left to do is enjoy the apartment living style usually including stunning views from a towering apartment building, increased security, and on-site amenities such as gyms, pools and even spas.
For a free quote on lifting your furniture into an apartment call 0477 000 976 or fill out our contact form and we will get back to you.