Relocating Your Granny Flat – Why Crane Hire Is The Best Option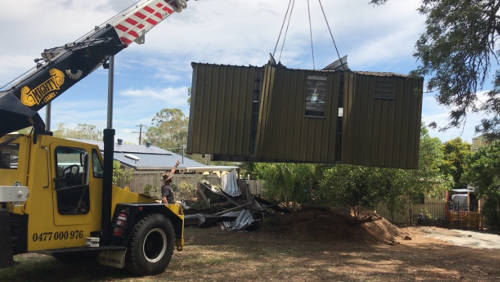 With increasing property prices and the tiny house movement, granny flats are only growing in popularity in Australia.
A granny flat is a versatile living space, typically detached from the main dwelling on the property. Installing a granny flat is a useful way to create an additional self-contained living space that can be used for anything from housing elderly family members, teenagers, or even as an office or guest house.
However, granny flats can be quite large and heavy making it difficult to move into place. Additionally, granny flats often need to be relocated which can quickly become a stressful process.
If you are looking to install, remove, or relocate a granny flat, crane hire is the best option. Professional crane hire will ensure that your granny flat relocation goes off without a hitch.
The Benefits of Moving Your Granny Flat With a Crane
Hiring a crane to handle the removal or relocation of your granny flat can be daunting, particularly if you have never worked with a crane before. However, there are a number of benefits that come with hiring a crane to move your granny flat including:
Quick & Efficient Move
If you're looking for a quick and efficient way to move your granny flat, crane hire is the way to go. Mobile cranes make easy work of shifting a granny flat as they are specifically engineered for the safe and efficient lifting of large and heavy objects.
Additionally, our experienced operators perform lifts like this regularly which means they know exactly what to do when it comes to relocating a granny flat. Whether you need it lifted off the back of a truck and perfectly positioned in your backyard, or removed from your property, we've got it covered.
Versatile Cranes Suitable For Any Job Site
Another benefit of choosing crane hire to move your granny flat is that there are a number of different types of mobile cranes built for different uses, weight capacities, and environment.
This means that no matter what the size of your granny flat or the condition of the lift site, there's a mobile crane that is perfectly designed for the job.
For example, we have all terrain and rough terrain mobile cranes designed for use on projects with no road access and varying ground conditions. Additionally, we have cranes designed for carrying out heavy lifts on sloping ground as well as our compact Franna crane, ideal for jobs with limited space.
No matter what your lift requirements may be, Mighty Cranes have the right crane for the job. Call us today on 0477 000 976 for all of your lift and shift needs.
Experienced Operators For A Stress-Free Lift
Another advantage of choosing an experienced crane hire company to move your granny flat is that you can take advantage of the experience of our operators.
Each of our crane operators is highly experienced, fully qualified, licensed and insured. This allows us to provide you with a safe, stress-free lift as everything is taken care of. We can provide all of the necessary equipment and our operators are also experienced riggers to ensure that the granny flat is safely secured before lifting.
Reliable Crane Hire Services Brisbane
If you're looking for reliable crane hire services to shift your granny flat, Mighty Cranes is the number one choice. Our versatile fleet of cranes and experienced operators will ensure that your granny flat is perfectly positioned as quickly and safely as possible. Call us today for a free quote and comprehensive lift plan on 0477 000 976 or fill out our contact form.