What Is A City Crane?
A city crane is a crane that is used to perform lifts on construction sites with limited access, without compromising on lift height and weight capacity. With an adjustable turning circle and telescopic boom, city cranes are able to easily navigate through construction sites with limited space and can still provide a tall lift once set up.
Additionally, the compact design of a city crane combined with the minimal set up required means that they are able to manoeuvre around tight access job sites and perform accurate lifts where other cranes could not fit.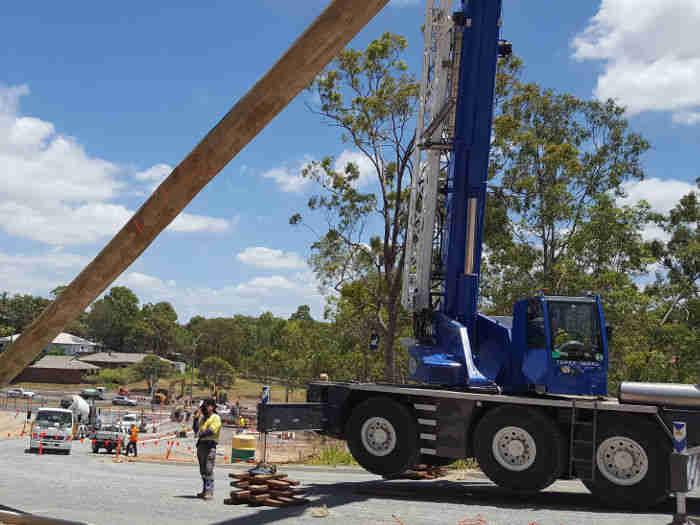 Benefits Of Hiring A City Crane
Compact & Manoeuvrable
One of the key benefits of hiring a city crane is that it is both compact and highly manoeuvrable. This means that a city crane can easily navigate a crowded city construction site with limited access. The compact size of a city crane means that you will be able to have a crane on site for all of your lifting needs without taking up the entire surrounding area.
Range Of Sizes Available
Another advantage of hiring a city crane is that they are available in a range of sizes and varying lifting capacities to suit your needs. This means that you can have the manoeuvrability and tight access lift that a city provides regardless of the lifting requirements of your project.
Quick Arrival & Setup
City cranes can typically be driven on public roads at high speeds. This allows for quick deployment to a job site without having to organise and pay for an additional form of transport. They also require minimal setup once on site, ensuring that your project is completed on time and within budget.
When Is A City Crane Needed?
City cranes have many applications and can be useful for both residential and commercial lifts. They are particularly useful for lifts where access to the job site is limited, such as lifting objects between buildings or in an enclosed space.
Why Hire A City Crane?
Hiring a city crane rather than purchasing one gives you the flexibility to choose the ideal crane size and weight capacity for every lift, rather than having to fit the lift to the crane you already have.
Hiring a city crane also means that you won't have to worry about maintenance and storage costs, let alone costly repairs, as this is all taken care of by the crane hire company. In fact, you won't even need your own crane operator as most crane hire companies will hire out a fully licensed and experienced operator with the crane to perform the lift.
Your Brisbane City Crane Hire Company
Mighty Cranes is your Brisbane city crane hire company, providing affordable crane hire Brisbane, Logan, and Redlands wide. We have a wide range of mobile cranes available for hire including a 55 ton city crane. And with qualified and experienced crane operators on call 24/7, you can count on Mighty Cranes for all of your crane hire needs, day or night.
Call us today on 0477 00 976 for a free quote and comprehensive lift plan.