Why Choose Rough Terrain Crane Hire For Your Next Lift
Choosing the right crane for your next lift will save you time and money, and ensure that the job goes off without a hitch. Mighty Cranes offers a wide range of mobile cranes for hire Brisbane wide, including Franna, All Terrain, and Rough Terrain Cranes.
If you're looking for the perfect crane to perform an off-road lift quickly and safely, rough terrain crane hire is the way to go.
What Is A Rough Terrain Crane?
A rough terrain crane is a type of mobile crane specifically designed for lifting and moving heavy materials on rough or uneven surfaces. Rough terrain cranes are equipped with large, off-road tyres, suitable for use on paved surfaces as well as uneven terrain.
With the ability to switch to 4-wheel drive for maximum maneuverability as well as the use of outriggers for stability, rough terrain cranes are able to perform safe and efficient lifts in even the most rugged terrain.
Why Choose Rough Terrain Crane Hire For Your Next Lift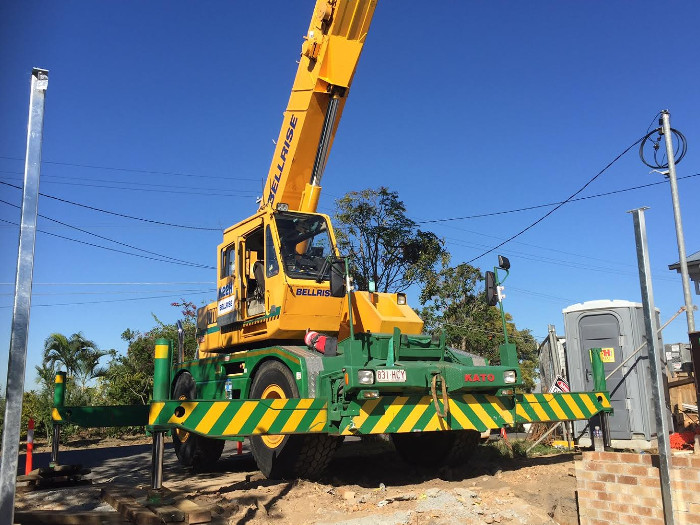 Maneuver Rough Terrain
The key benefit of choosing a rough terrain crane for your next lift is its unique ability to maneuver and perform stable lifts over rough terrain.
Mighty Cranes offers affordable crane hire Brisbane wide, including rough terrain crane hire. Our state of the art, 22-ton rough terrain crane is compact with the ability to switch between 2-wheel and 4-wheel drive steering for easy positioning in tight quarters and on uneven surfaces.
Our rough terrain crane is also equipped with front and rear stabilisers allowing for a steady lift on any surface, including slopes and off-road areas. .
Compact & Maneuverable
The compact design of our rough terrain cranes allows it to perform steady lifts on job sites with limited space and in areas where other cranes could not reach. In fact, our rough terrain crane has a multi purpose cab for both driving and operating the crane, contributing to how compact it can be.
With the option of 4-wheel drive steering, our rough terrain crane can easily maneuver across uneven surfaces, performing tight maneuvers for easy positioning where space is limited.
Quick Set Up
Equipped with its own front and rear stabilisers, our rough terrain crane requires minimal setup before each lift, saving you time and money by ensuring that each lift is completed quickly and efficiently.
The Mighty Cranes Difference
When it comes to rough terrain crane hire in Brisbane, Mighty Cranes is the number one choice. Our team of experienced and highly skilled crane operators are on call 24/7 for all of your crane hire needs, including emergency lifts.
The Mighty Cranes difference is the amount of planning that goes into each lift, ensuring minimal time waste and keeping your lift on budget. Call us today on 0477 000 976 and take advantage of our free quote and comprehensive lift plan offer.