Mighty Cranes Rigging and Crane Hire Company
Mighty Cranes is a fully insured and accredited mobile crane hire company Brisbane, with a strong drive for customer service and satisfaction. Our broad client base of repeat customers is a testament to the high level of professionalism that we apply to each job, big or small.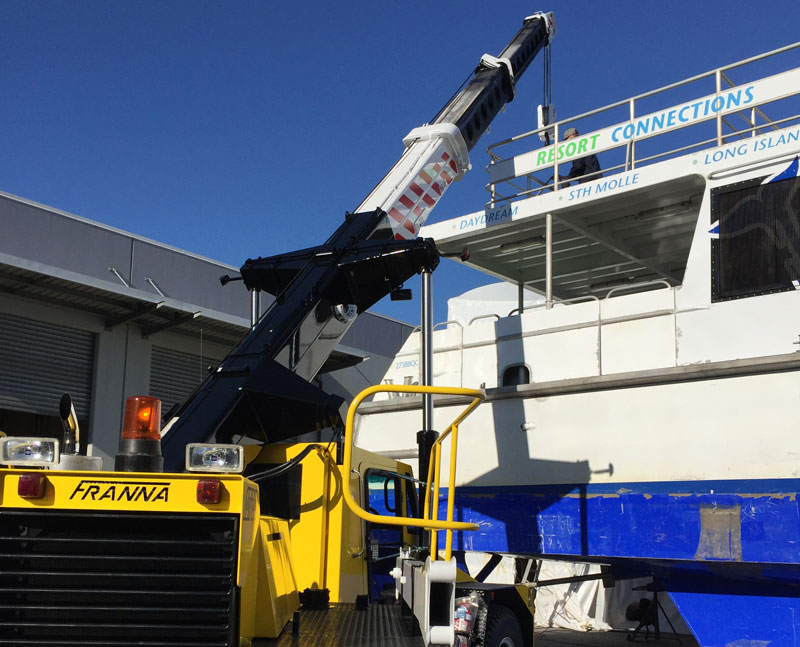 Why Choose Us?
The benefit of choosing Mighty Cranes as your crane hire company Brisbane is our preparation that goes into any lift we are involved in well before we arrive on site with our crane and equipment. We can arrange to meet on site free of charge to provide a quote and comprehensive lift plan. The benefit of this service ensures we can prepare an effective safety plan and eliminate any possible hazards before any work starts. This service also ensure that the correct crane is selected for the job and will have all the necessary lifting gear required to complete the lift safely and effectively.
Ultimately all this preparation for each lift we undertake ensures the job runs smoother and minimising time spent on site providing a more cost effective solution to the client.
Our 20 tonne pick and carry Franna crane is a versatile crane which has proven itself to be the perfect crane for working in around some of the tighter streets and building sites due to its ability to articulate. As building sites these days are getting smaller and smaller with minimal room to set up and move, our Franna is particularly useful for such sites without the need for outriggers.
We also have the option to cross hire much larger cranes, giving us the flexibility to do much larger lifts. Mighty Cranes also has the capacity to source a wide range of lifting.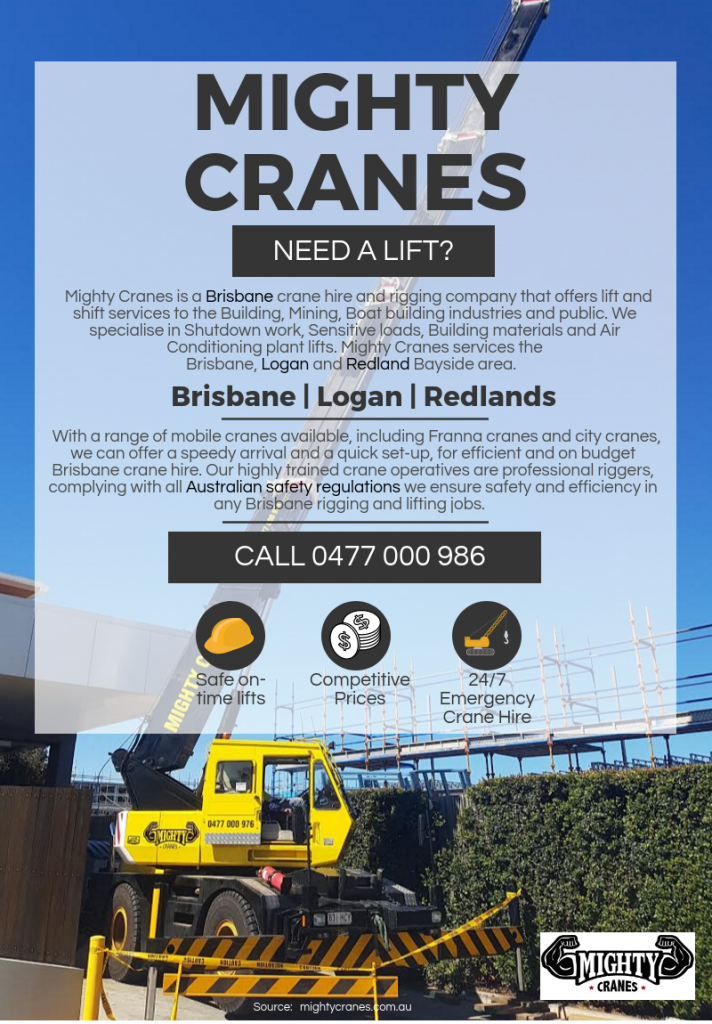 Mighty Cranes is a Brisbane crane hire company that offers lift and shift services to the building, mining, boat building industries and general public. We specialise in shutdown work, sensitive loads, building materials and air conditioning plant lifts. Mighty Cranes services the Brisbane, Logan and Redland Bayside area.
With a range of mobile cranes available for hire including Franna cranes and city cranes, we can offer a speedy arrival and a quick set-up, for efficient, on-budget, Brisbane crane hire. Our highly trained crane operators and professional riggers are compliant with all Australian safety regulations and will ensure the safety and efficiency of any Brisbane rigging and lifting jobs.
Mighty Cranes is one of the best crane companies Brisbane has to offer. If you're looking for quality crane hire you can rely on where safety comes first, call Mighty Cranes today on 0477 000 976.
Industry Partner
As we specialise in air conditioning lifts, Mighty Cranes regularly partner with local air conditioning specialists, Advanced Climate Solutions. ACS provide high quality split system and ducted air conditioning systems and we provide precise and on time lifts. If you're looking for top brand air conditioners including Daikin and Mitsubishi at great prices, call Advanced Climate solutions today on 07 3206 3542 or visit their website at airconacs.com.au.