Mighty Cranes is your Slewing Crane Hire Company in Brisbane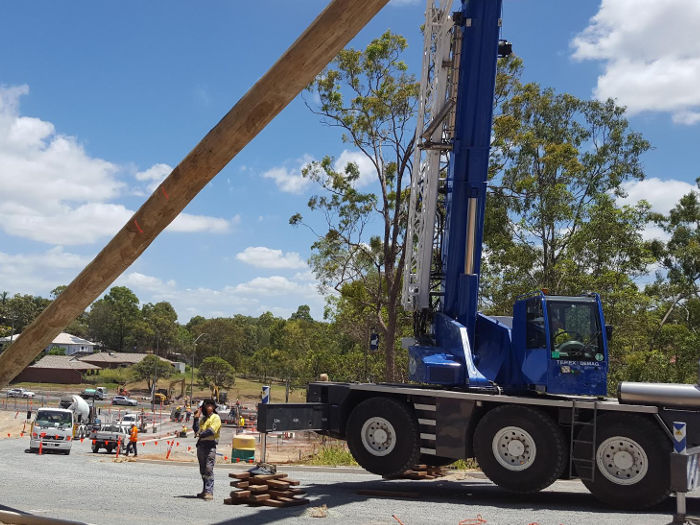 SLEWING CRANE HIRE – DEMAG AC 55TON
Mighty Cranes is the number one crane hire company in Brisbane. We offer reliable Brisbane all terrain slewing crane hire at affordable prices. We have a versatile fleet of mobile cranes including city cranes, slewing all-terrain cranes, and franna cranes. Our highly trained and fully qualified crane operators are on call 24/7 for both emergency crane hire and to ensure that your next lift is completed on time and within budget.
Demag AC 55 Ton Specs:
Slewing
55-TON lift
3 axle crane
Multi-wheel drive and steering
Compact & versatile
Crane stabilisers Front and Rear
ALL TERRAIN CRANE HIRE
All terrain cranes are designed for use on smooth public roads as well as rough terrain job sites. Equipped with off-road tyres and an all wheel drive suspension, our Demag AC 55 ton all terrain crane is the perfect combination of heavy lifting and versatility. The Demag is also fitted with crane stabilisers at the front and rear to ensure a safe and stable lift in almost any environment including on slopes and uneven ground.
CHOOSE MIGHTY CRANES
Mighty Cranes is the number one choice for rigging and crane hire services Brisbane, Logan, and Redlands wide. We offer a free quote and custom lift plan service for each lift to maximise safety and ensure that each lift is completed precisely and to a high standard.
Call us today on 0477 000 976 for affordable all terrain crane hire Brisbane and take advantage of our free lift plan offer.
SLEWING CRANE HIRE BRISBANE
A slewing crane has an extendable boom that can be rotated on a turning bearing and is often referred to as a city crane. A non-slewing crane like a franna crane does not have a turning bearing for the boom but requires the crane truck to move or taxi the item.
24/7 ALL TERRAIN CRANE HIRE
Another advantage of choosing Mighty Cranes for your crane hire needs is that we offer 24/7 availability. Whether you have a job that requires after hours lifts or you need emergency crane hire, you can count on us to provide a reliable lift whenever, and wherever you need it.
Our all terrain crane can travel on public roads at high speeds for a speedy arrival to any Brisbane job site. Additionally, the Demag all terrain crane requires little setup so we can be on site and ready to lift in no time, night or day.
Get a Quick Quote
Free Quotes
We plan every lift and we're able to meet you on-site for a free quote, consultation and lift plan ensuring you have the right team for your next lift.
Mighty Cranes – Hire Brisbane
Mighty Cranes, which services the Brisbane, Logan and Redlands Bayside regions, offers All Terrain crane hire solutions for your mobile lifting requirements. Our Brisbane crane hire team is fully insured providing leading All Terrain cranes and trained operators to ensure your next lift is planned & safe for minimal time waste and cost efficiency.
The benefit of using Mighty Cranes is the preparation we put into any lift. We're involved in planning well before we arrive on site with our crane and equipment. We can arrange to meet on site free of charge to provide a quote and comprehensive lift plan.