Mighty Cranes is your Brisbane City Crane Hire Company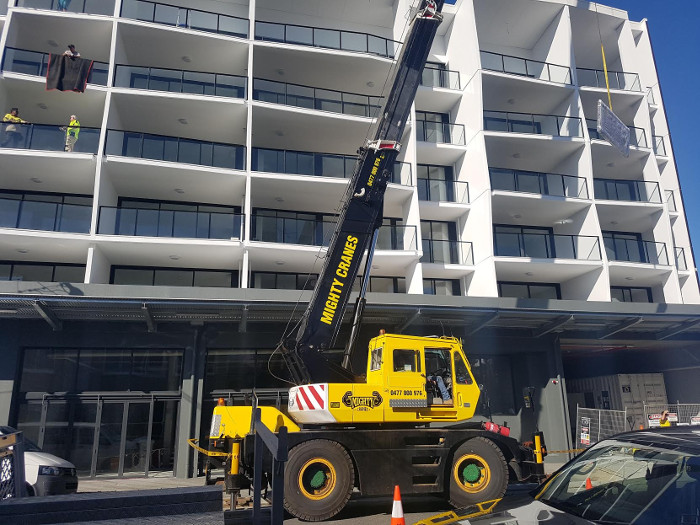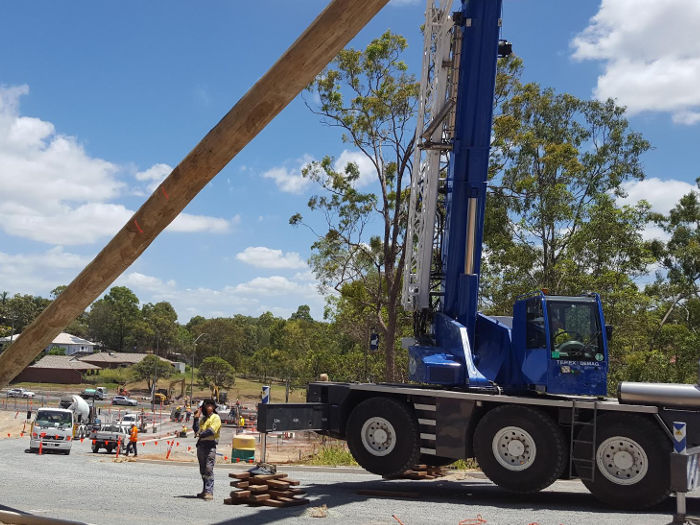 City Crane Hire Brisbane
Mighty Cranes is a leading crane hire company in Brisbane. Our crane fleet operates throughout the Greater Brisbane area including Logan and Redlands Bay regions. Our city crane team consists of highly trained and fully insured crane operators, that are familiar with the Brisbane area, allowing for a quick arrival time to any Brisbane jobsite. When you need to hire a crane in Brisbane call Mighty Cranes! Contact us today for a free quote on 0477 000 976
City Cranes
City cranes are the epitome of compact size and maneuverability when it comes to cranes. As the name name suggests, city cranes are specifically designed to operate in an urban setting. The smaller size of city cranes allows them to be road worthy and able to fit on almost any road size, making for a quick arrival to any Brisbane jobsite. With their retractable, slanted boom, they are able to turn in much tighter spaces than standard cranes.
City cranes are also equipped with a shorter chassis, this makes city cranes the perfect size to fit into smaller jobsites, through gates and even inside buildings. Mighty cranes own and operate multiple city cranes including the Demag AC 55-TON and the Kato KR22H 22-TON. (link to relevant pages for cranes)
When it comes to city cranes, Mighty Cranes is the best choice for Brisbane City Crane Hire.
Why Choose a City Crane?
The compact size and increased mobility of city cranes make them the perfect choice for the next time you have a tricky lift. They are ideal for use within Brisbane city for commercial jobs as they are one of few cranes that can legally drive through the narrower streets found within Brisbane city.
City cranes are also a great choice for domestic lifts including shifting granny flats, spas, shipping containers and general garden supplies. Hire Brisbane city cranes from Mighty Cranes if you need a speedy, reliable lift, with precise results. Call us today on 047 000 976 for your free quote!
Get a Quick Quote
Free Quotes
If you want to hire a Franna crane  today, or even if you are not sure which crane you need, call us today on 0477 000 976 or contact us through the form below. We can meet you on-site for a FREE quote, including the initial consultation and designing a lift plan specific to the job.
Mighty Cranes – Hire Brisbane
Mighty Cranes offer crane hire services to the Brisbane, Logan and Redlands Bayside regions. We provide Franna crane hire and lifting solutions for all your lifting and rigging needs both commercial and domestic. We have a highly trained and fully insured team of crane operators and fully equipped Franna cranes for hire. With Mighty Cranes you can be assured of maximum safety and efficiency to keep your next job on time and on budget.
Choose to work with Mighty Cranes
Mighty Cranes is one of Brisbane's leading crane companies as a result of the preparation put into every job we take on. With Mighty Cranes, the planning starts as soon as contact is made, before any cranes or equipment have been deployed. We offer a free quoting service where we attend the site and devise a comprehensive lift plan, as well as your customised quote at no cost to you.