Hiring the right crane for your next residential project is essential in ensuring that your project is completed on time and within budget. However, there are a number of obstacles that come with crane operation in a residential environment that need to be considered in order to avoid any unexpected surprises or delays to construction.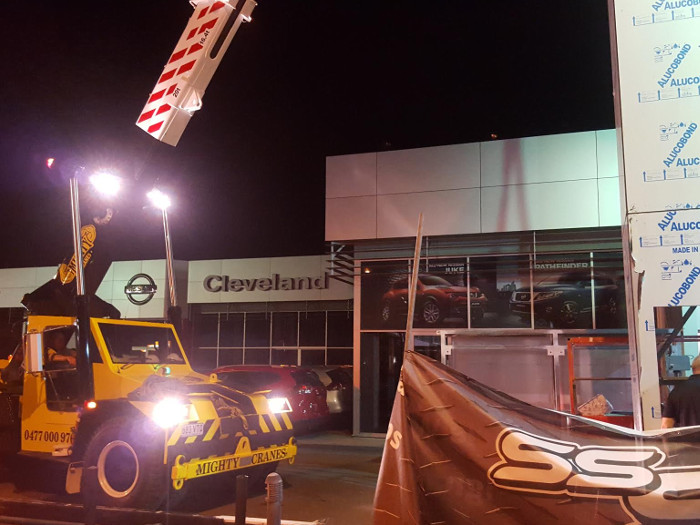 Identify Nearby Obstacles
One downside of residential construction when compared to a large commercial job site is limited space. Available space and nearby obstacles are an important consideration when planning a crane lift on a residential project to ensure that the right type of crane is hired and that the lift goes as planned.
Before hiring a crane, check the area for nearby obstacles and obstructions that could affect an operating crane such as power lines, large trees, and even nearby buildings. This will allow you to firstl, ensure that there is enough clearance for a crane to safely operate, and secondly, to select the most suitable crane for the lift.
Mighty Cranes has a versatile fleet of mobile cranes, including compact cranes such as our 20-ton Franna – ideal for lifts in residential areas where space is limited. Call us today on 0477 000 976 for a free quote on hiring the ideal mobile crane for your next lift.
Obtain Council Permits & Clearance
As residential areas tend to be much more built up than industrial areas, it is likely that crane operation will cause a significant disruption to the surrounding area. For this reason, it is necessary to obtain proper permission and clearance from your local council to have a crane operate in the area.
Depending on the size of the street where the crane is to be operated, traffic may need to be temporarily diverted. Additionally, the council may need to issue notice to nearby residents to ensure that no cars are parked in the immediate area during the lift.
Site Preparation
To ensure that each lift is completed as quickly and efficiently as possible it's important to prepare the supplies and materials to be lifted before the crane arrives on site. Gathering the necessary materials and equipment to one place providing easy access for the crane operator will save you time and money on your crane hire costs.
Wet Crane Hire
Renting a crane is the economical choice for many residential construction projects. However, crane rental comes with the option of either wet hire or dry hire. Dry hire is the hire of the equipment alone, whereas, wet hire includes the hire of a qualified crane operator.
Residential Crane Hire Brisbane
Mighty Cranes offers reliable crane hire Brisbane wide for both residential and commercial construction projects. With a team of highly trained and experienced crane operators, you can count on us to ensure that crane hire for your next residential construction project runs smoothly.
In fact, we have experienced operators on call 24/7 for all of your after hours crane hire needs. Call us today on 0477 000 976 for a free quote and comprehensive lift plan.