When it comes to lifting large and heavy objects on a construction site, nothing beats a mobile crane. Mobile trucks combine the best of both larger cranes and truck cranes. With their compact size and maneuverability they are ideal for use in tight access city construction sites. Plus, they will often have a greater lifting capacity than that of a larger tower crane.
If you need reliable mobile crane hire Brisbane, Redlands, or Logan choose Mighty Cranes. The Mighty Cranes difference is the amount of planning we put into every lift to ensure that each lift is completely quickly and safely. To ensure that your next construction project is completed quickly and efficiently, saving you money, hire a crane from Mighty Cranes. Call us today on 0477 000 976 for a free quote and lift plan.
Why Hire A Mobile Crane For Your Construction Project?

Astounding Lifting Capacity
When it comes to mobile cranes, power is never an issue. Although smaller in size than other cranes, mobile cranes make up for it with their astounding lifting capacity. The heavy duty axles and hydraulic lifting power of a mobile crane allows them to lift large and heavy objects to great heights.
In fact, although tower cranes can be much taller than mobile cranes, the lifting capacity of mobile cranes tends to be much greater. With mobile cranes that can lift upwards of 150 tonnes.
Compact Design
The compact design of a mobile crane is ideal for use on busy Brisbane construction sites as well as for residential jobs in urban areas. When there is little space between buildings, structures, or houses, using a tower crane is not practical.
Conversely, a mobile crane can navigate into tight spaces and can still be used to effectively lift large and heavy objects. They can be used to access narrow areas of the site where larger cranes cannot reach. Plus, as a legal road vehicle, mobile cranes can also travel around a construction site and from one site to another to perform multiple lifts in the same day.
Minimal Set Up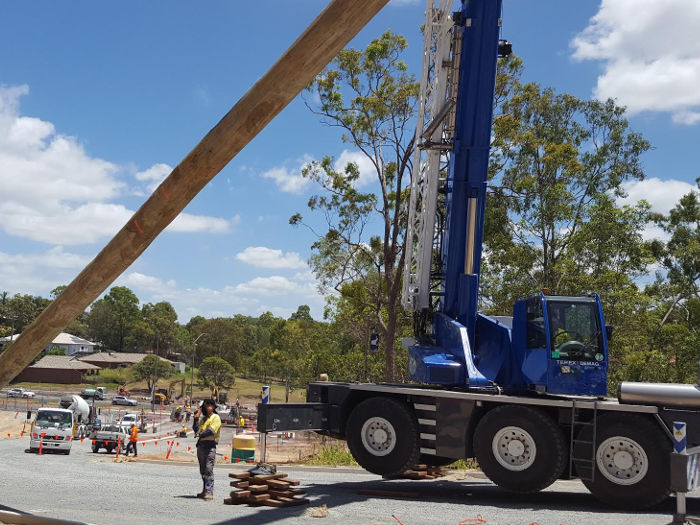 Unlike other types of cranes, mobile cranes require minimal set up to help ensure that each job is completed as quickly as possible. Where tower cranes need to be prepped and built, mobile cranes can simply drive to the site, get secured, and begin lifting. This reduces the amount of time that the crane is on site before lifting commences, saving you money. Additionally, less space is required to stabilise a mobile crane than other crane types.
Cost Effective
As mobile cranes can travel at high speeds on public roads they are able to arrive on site quickly, saving you money. Additionally, their minimal set up time will reduce the amount of time that the crane is needed on site making it a cost effective lifting option for any construction project.
Reliable Crane Hire Brisbane – Great Prices
If you have a construction project coming up, hire a mobile crane to ensure that your job is completed, quickly, safely, and within budget. Mighty Cranes offers reliable mobile crane hire Brisbane, Redlands and Logan wide. With a versatile fleet of mobile cranes including a Franna crane, an all terrain crane, and a rough terrain crane, we have the perfect crane for your lifting needs.
Call us today on 0477 000 976 and take advantage of our free quote and comprehensive lift plan offer.