Whether its during a move or a Brisbane kitchen renovation people are commonly faced with the issue of trying to move an oversized item into an apartment or office building. Achieving this with precision, and without damage to the item, or the thought of having to put a seam in your beautiful marble kitchen benchtop can be a difficult task.
In most cases like this, crane hire is the most efficient and cost effective solution. Don't pay a removalist to spend hours manoeuvring a single item up a narrow staircase. Hiring a crane is safer and costs a lot less. A crane lift can also help ensure the item remains undamaged during the move.
We frequently work with customers with oversized furniture to get into new apartments and large houses. Recently, we worked with an interior design company, Designed for Sale, to lift a heavy marble table up to an apartment.
Common Oversized Furniture
Couches / sofas / lounges

Tables

Fridges

Mattresses & Bed Frames

Benchtops

Pool tables

Baths & Spas

Armoire

Desk

Pizza Ovens

BBQs and Outdoor Kitchens

Plants / trees

Art

Large Buffets

Pianos

Shelving units

Outdoor furniture

Kitchen Cabinetry & Benchtops
     "It was an expensive marble table that was too big to be taken up the lift and couldn't be lent on an angle. For the project we needed a light crane with a long reach and Mighty Cranes came to the rescue. Mighty cranes was actually a referral from another project I worked on where they lifted a large marble counter top into an apartment. I was so impressed with the skill and the ability to move the table within inches of where it needed to be. Andrew was so amazing."
                     -Kylie, Owner.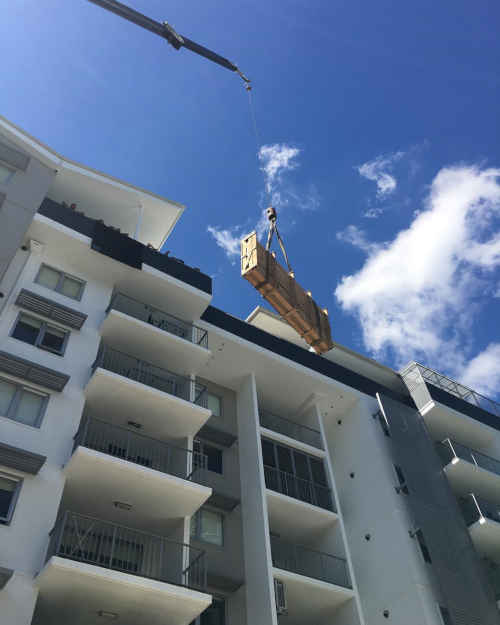 We are not limited to moving large furniture into homes, we are often called in to move oversized items into apartment construction sites and homes. Recently we were hired by Nest Bespoke Homes to manoeuvre a large marble bench top into the second floor of a house.
   "The dimensions were too large to manouvre through the stairway and the caesar stone top was too heavy to carry up the stairs. With the kitchen located on the second story the only option in this scenario was to bring in a crane. Mighty cranes are an experienced crane hire company that provide exceptional lifts for construction projects."
-Ryan, Owner
Mighty Cranes has a highly trained team of crane operators and a fleet of cranes suitable to almost any job. With Mighty Cranes you can rest assured that your move will be quick, and on budget.