What Is A Rough Terrain Crane?
A rough terrain crane is a type of mobile crane that is designed to be used where other cranes cannot perform a stable lift, without compromising on productivity. Rough terrain cranes are equipped with off-road tyres as well as front and rear stabilisers allowing for a stable lift on rough surfaces including on steep grades and obstacle-strewn ground.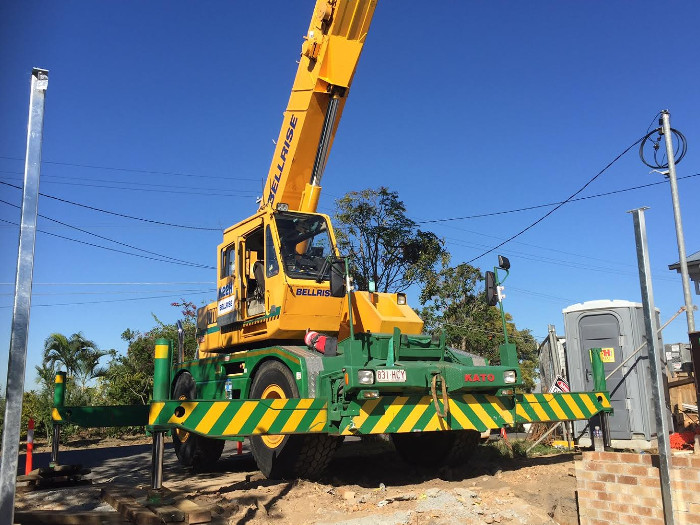 What Is A Rough Terrain Crane Used For?
Rough terrain cranes have a variety of applications both in commercial and domestic use. They are frequently used to perform lifts on sites that standard cranes cannot access as rough terrain cranes are fitted with wider, larger tyres than a standard crane and can switch between 2-wheel and 4-wheel drive when needed.
As well as their ability to access job sites with no road access, rough terrain cranes are well equipped to provide stable lifts on uneven surfaces. This is made possible using the in-built crane stabilisers at the front and rear of the crane.
The Benefits Of A Rough Terrain Crane
Better Steering & Traction
Unlike many other cranes, rough terrain cranes are fitted with two large axles, as opposed to three or more smaller axles, and each axle can independently propel the wheels. This affords rough terrain cranes the ability to switch between 4-wheel drive and 2-wheel drive when needed, providing the increased traction and power needed to travel over rough terrain.
Increased Stability
Another benefit of using a rough terrain crane is increased stability. When operating a crane on uneven, muddy, or even sloped surfaces, stability is always a priority. Luckily, rough terrain cranes are equipped with built-in front and rear, 'H' shaped stabilisers, ensuring that the crane operator will not need to worry about the level of the ground while operating.
The weighty stabilisers create a lower center of gravity, increasing stability during a lift. Conversely, standard cranes have a narrow body creating an elevated center of gravity and reducing stability. For this reason, rough terrain cranes provide a much more stable and secure lift on uneven, rough terrain.
High Maneuverability
Rough terrain cranes also have the ability to move around job sites more quickly than other cranes. This is due to the fact that the off-road tyres and 4-wheel drive capabilities of a rough terrain crane allows it to easily maneuver over rough surfaces and around obstacles that would limit the movement of a standard crane.
Choose Mighty Cranes – Crane Hire Brisbane
If you need reliable rough terrain crane hire Brisbane at great prices, call Mighty Cranes today. Our team of highly trained crane operators are on call 24 hours a day for all of your lift and shift needs.

Whether you're looking for the reliability and stability of a rough terrain, or the maneuverability and quick set up of a Franna crane, Mighty Cranes has got you covered. Our versatile fleet of cranes is available for hire Brisbane wide, 24/7. Call Mighty Cranes on 0477 000 976 for all of your mobile crane hire Brisbane needs.