Crane Hire Redlands – Choose Mighty Cranes
Mighty Cranes is the number one crane hire company Redlands, Logan, and Brisbane wide. If you're looking for quality crane hire services at a competitive price, look no further than Mighty Cranes. Our highly trained crane operators are on call 24/7 and fully insured to make sure that your next lift is completed as quickly and safely as possible.
The Mighty Cranes difference is the amount of planning we put into every lift. We can even arrange to meet you onsite to provide a free quote and comprehensive lift plan at no cost to you. Call us today on 0477 000 976.
Serving Redlands, Brisbane, & Logan
Mighty Cranes offers reliable crane hire services Redlands, Brisbane, and Logan wide. Our centrally located fleet of cranes will allow us to reach your Redlands job site in no time. Our highly trained crane operators are also trained in rigging to ensure that your next lift goes off without a hitch.
Our Versatile Crane Fleet
We have a versatile fleet of mobile cranes available for hire Redlands wide including a Franna crane, an all terrain crane, and a rough terrain crane.
20 Ton Franna Crane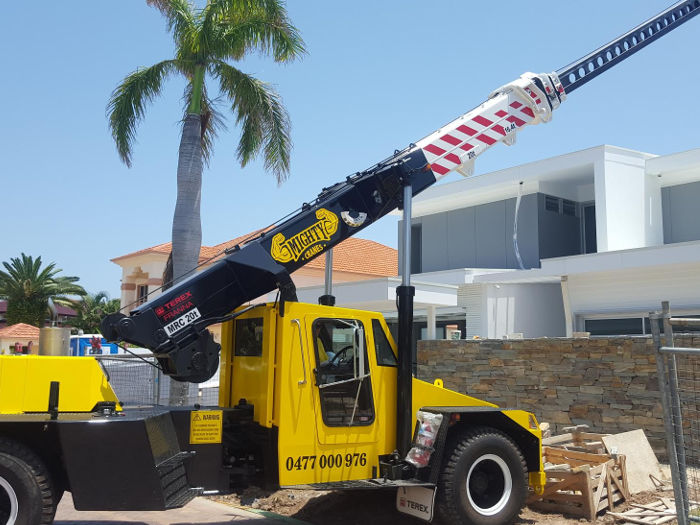 Our 20 ton pick-and-carry crane is ideal for lifting heavy materials and taxiing them to another part of the site. With minimal setup and high on-road speeds, our Franna crane is perfect for jobs with limited time.
55 Ton All-Terrain Crane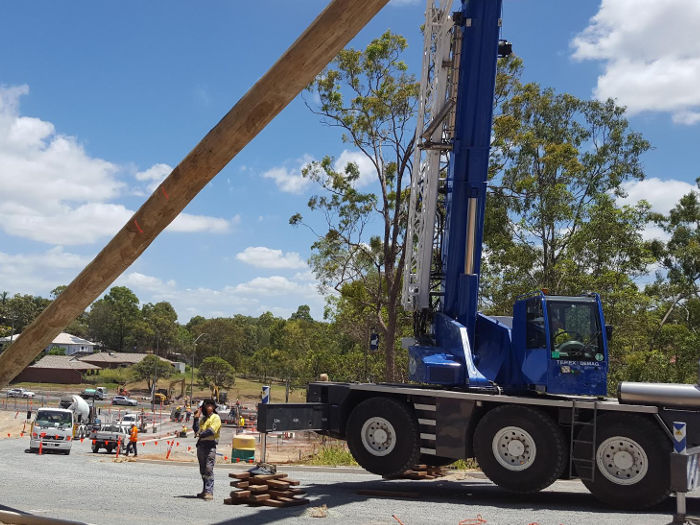 As its name suggests, our 55 ton demag all terrain crane is designed for use on all kinds of terrain ranging from highways to dirt roads. If you need a lift on a job site without road access, an all terrain crane could be the solution.
Additionally, all terrain cranes are designed to operate in most weather conditions. Our 55 ton Demag all terrain crane is operational in temperatures ranging from -25 degrees to 40+ degrees celsius.
22 Ton Rough Terrain Crane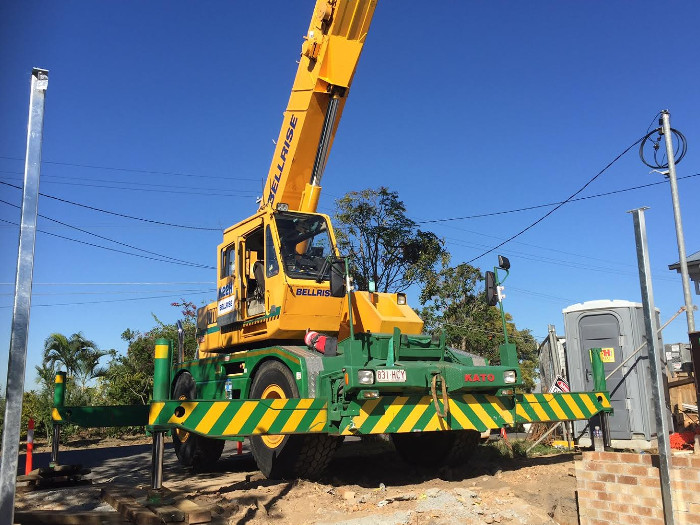 The off-road tyres and the ability to switch between 2-wheel drive and 4-wheel drive makes our rough terrain crane perfect for use on job sites with unaltered ground. Our rough terrain crane is also equipped with front and rear stabilisers allowing us to provide safe, stable lifts on uneven ground, and even on slopes.
We also have larger cranes available for hire upon request.
Whether you want to hire a Franna crane for your inner city jobsite or a rough terrain crane for an off road lift, Mighty Cranes has got you covered.
24/7 Availability
Another benefit of choosing Mighty Cranes for all of your crane hire needs is that our highly trained crane operators are on call 24/7. This means that we can provide reliable lifts Redlands wide, outside of the 9 to 5 of business hours. We also offer emergency crane hire services, and with our crane fleet based in Capalaba, Mighty Cranes proudly offers quick response emergency crane hire Redlands, Brisbane and Logan wide.
Redlands Crane Hire – Great Prices!

For a crane hire company you can rely on choose Mighty Cranes. Our experienced crane operators are fully insured and trained riggers to ensure that you only have to make one call for any lift. Call us today on 0477 000 976 for quality crane hire Redlands wide at great prices!