Emergency Crane Hire
Mighty Cranes have a highly trained team of experienced crane operators on call 24 hours a day, 7 days a week, for all of your emergency crane hire needs. Whether you simply need a weekend lift or even emergency vehicle recovery our operators are well-trained and ready to go. If you need out of hours or emergency crane hire call Mighty Cranes now on 0477 000 976.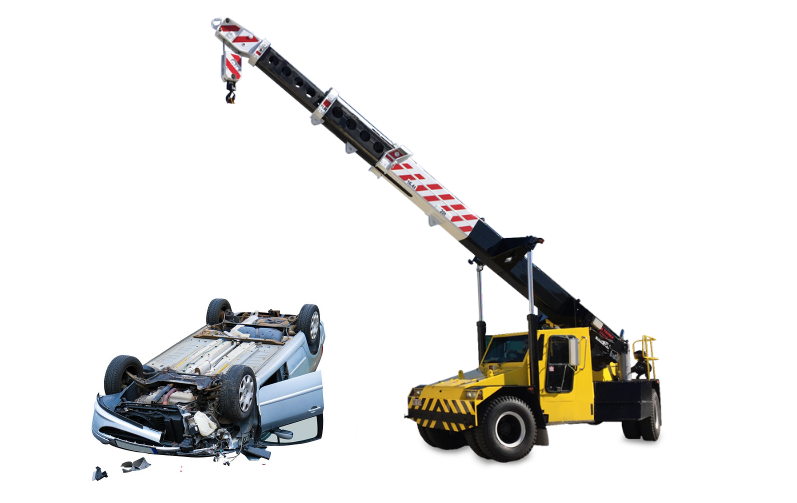 There are many emergency scenarios that may require emergency crane hire including:
Rolled Cars
Fallen Trees
Vehicle Recovery
Machinery Repair
Repairs on high objects
Emergency breakdown
Broken down factory equipment
When it comes to crane hire, it's critical that you get the best person for the job, especially in the case of an emergency. Mighty Cranes provides reliable local emergency crane hire Brisbane wide. Plus, in an emergency situation, time response time is crucial. Our fleet is locally based in Mansfield, South Brisbane which means we can get to any Brisbane location in no time. If you need emergency crane hire Brisbane Southside call 0477 000 976 now.
Experienced Operators
Our experienced crane operators are kept fully up to date in training and fully licensed and insured to make sure your emergency lift is completed quickly and safely. We also train our crane operators to stay calm in an emergency situation to ensure that every lift we perform is completed as safely, and quickly, as possible, including both standard and emergency lifts.
Quick Response Time
For a quick response in an emergency situation call Mighty Cranes on 0477 000 976. Our experienced team of crane operators and riggers are available 24/7 for emergency crane hire. Our versatile fleet of mobile cranes have high on road speeds and require minimal setup time to ensure that we can arrive as quickly as possible to an emergency call out.
Choose Mighty Cranes
If you need emergency crane hire, you need crane operators that you can trust. For quick response times and experienced operators that are trained to get an emergency situation under control call Mighty Cranes on 0477 000 976. Our fleet of mobile cranes is available 24/7 for all of your emergency crane hire needs.