24/7 Crane Hire Brisbane
Mighty Cranes has a versatile fleet of cranes available for hire 24/7, as well as a team of highly trained and experienced crane operators. We know that every job is different and that many jobs don't fit within the standard 9 to 5, Monday to Friday of business hours. That's why we offer flexible mobile crane hiring services with trained operators on call 24/7.
Call Mighty Cranes anytime on 0477 000 976 for all of your 24/7 crane hire Brisbane needs.
Mobile Cranes For Every Job
Our Brisbane based fleet of mobile cranes includes maneuverable Franna cranes, versatile all terrain cranes, and durable rough terrain cranes, ensuring that we can provide the right crane for every job.
Franna cranes, or pick-and-carry cranes, are a popular choice for mobile crane hire in Brisbane. Designed in Brisbane, Australia, Franna cranes are ideal for use in most Brisbane job sites.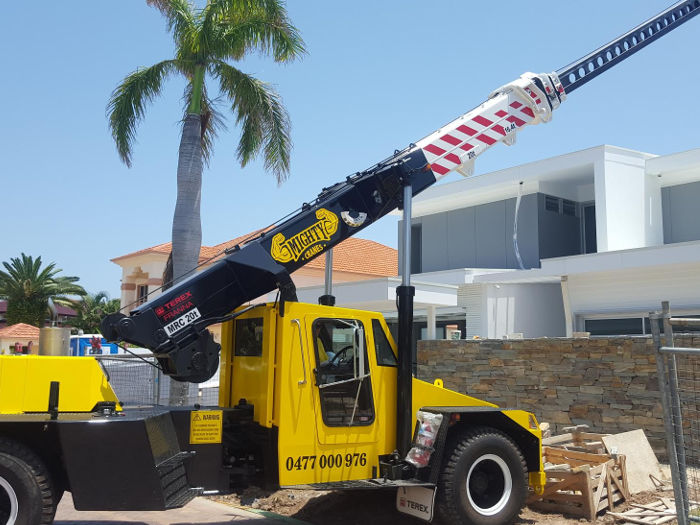 Our 20-ton Franna crane is a versatile crane that can be used for a range of applications including lifting and transporting heavy materials between locations. With the compact design of the 20-ton Franna, this crane is ideal for jobs with limited access.
The high on-road speeds and minimal setup required for a Franna crane will ensure that your next lift is completed on time and within budget.
An all terrain crane is a hybrid between a pick and carry crane and a rough terrain crane. Making use of the best features of each crane, an all terrain is both highly maneuverable and operational on uneven terrain.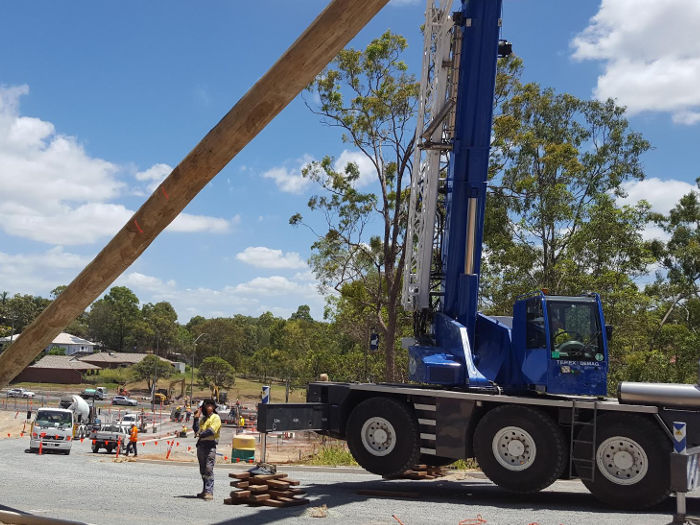 Our 55-ton Demag all terrain crane is a versatile mobile crane that is available for hire 24/7 to fit the time requirements of any job. The Demag is fitted with crane stabilisers at the front and rear for added stability during each lift. Additionally, our all terrain crane is fitted with off-road tyres and an all wheel drive suspension system to allow for use on rougher terrains where other mobile cranes cannot travel.
Our fleet also includes a 22-ton rough terrain crane, ideal for use on job sites with uneven or muddy ground, over obstacles and up steep gradients. Our 22-ton Kato rough terrain crane is fitted with off-road tyres and can switch between 2-wheel and 4-wheel drive based on the driving conditions.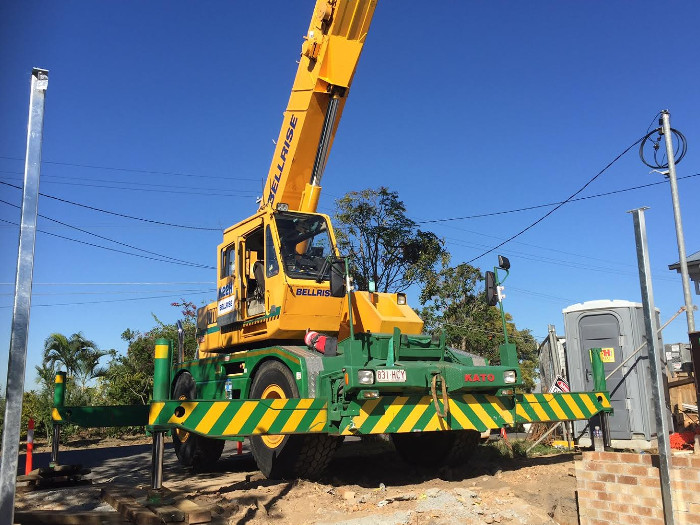 Our rough terrain crane is also fitted with crane stabilisers in the front and rear to ensure safety and stability during lifts. If you're looking for a mobile crane that can navigate rough terrain and is operational in adverse weather conditions, our 22-ton Kato could be the crane for you.
Our rough terrain mobile crane is also available for 24/7 hire Brisbane wide. We also offer a free quote and lift plan service to ensure that you have the right crane for the job, and that each lift is completed as quickly and safely as possible.
Choose Mighty Cranes
From emergency crane hire for rolled cars, fallen trees and vehicle recovery, to flexible crane hire outside of business hours, our 24/7 crane hire service will ensure that you have access to our versatile fleet of cranes and skilled crane operators whenever you need them. Choose Mighty Cranes for all of your Brisbane crane hire needs.