Mighty Cranes is your Franna Crane Hire Company in Brisbane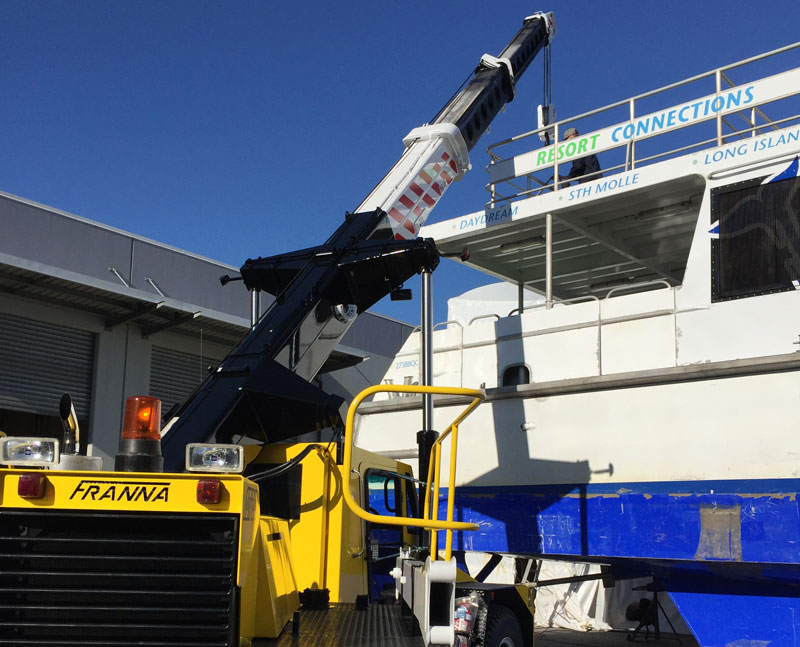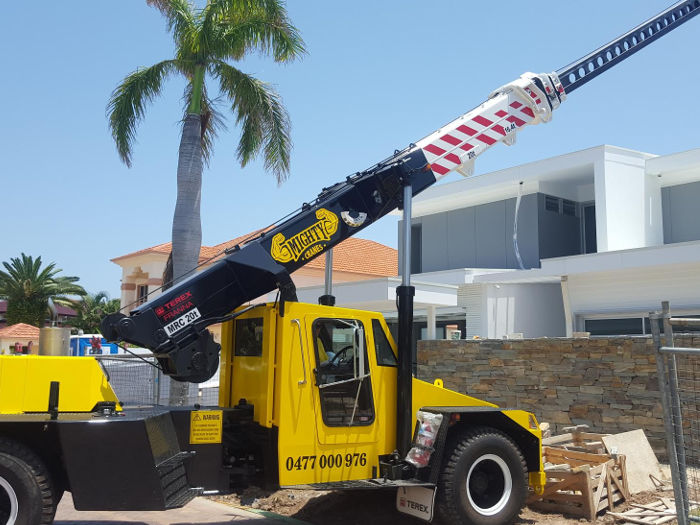 Due to their mobility and versatility, Franna Cranes are the popular choice for mobile crane hire in Brisbane. With their compact size, they're the superior Mobile Crane, able to fit almost any size construction project or get to emergency call-outs quickly. As the Franna crane setup time is quite efficient they've often taken over the roles of small truck cranes to provide a more time friendly Crane Hire service for projects in Brisbane. At Mighty Cranes we offer a range of cranes for hire with competitive all terrain, rough terrain, mobile and franna crane hire rates. Mighty Cranes is the best Franna Hire Brisbane service provider, contact us today for a free quote.
20-TON lift
Compact & versatile
Fully insured
Experienced team
Lift plans
24/7 service
Free quotes
Franna cranes are more popular in Australia than anywhere else worldwide as they were designed and manufactured in Brisbane, Australia.
Of Mighty Cranes fleet of mobile cranes, Franna cranes are the most in demand. We hire out and operate Franna cranes Brisbane wide including Redlands Bay region and Logan. Their smaller size and increased versatility can increase cost efficiency and productivity compared to their bulkier, less versatile counterparts.
Franna pick-and-carry cranes dominate the taxi crane market in Australia as they were specifically created to suit the fast-paced industrial and mining jobs commonly found in Australia. They have a lifting capacity of 10 to 25 tons and are ideal for lifting in narrow spaces. The increased maneuverability of franna cranes allows for them to be used on smaller job sites and domestic jobs where otherwise, crane lifts may not be possible.
Franna cranes incorporate the smaller size and maneuverability of cranes with a lesser lifting capacity, while maintaining the increased utility and lifting capacity of larger cranes. The smaller size of franna cranes also eliminates the need for outriggers. This makes Franna cranes suitable for almost any job site, commercial or domestic.
Hire a Franna from Mighty Cranes for your next Brisbane based job, and ensure maximum efficiency while staying on budget with our competitive rates for Franna crane hire Brisbane wide.
Franna Crane Hire Logan
Based in Capalaba, Mighty Cranes services all of the surrounding areas including Logan and Redlands Bayside. Local to Logan, we can have our franna cranes deployed and onsite in no time. With the minimal setup required for a franna crane, Mighty Cranes can save you time and money with our franna crane hire Logan service.
Lifting emergency? Does your job require cranes on call 24/7? Mighty Cranes offer 24/7 franna crane hire Brisbane wide for your convenience. We have a team of trained crane operators on call 24/7 so you can have a crane and operator at your job site whenever you need it.
With the high travel speeds of our franna cranes, Mighty Cranes are the solution for quick response emergency franna crane hire.
The Mighty Cranes fleet consists of a range of cranes from rough terrain to franna pick and carry crane. The mobility and versatility of our franna cranes make them a popular choice for mobile crane hire Brisbane wide. Our mobile cranes are able to travel on road for easy access to job sites and Brisbane City.
With mobile cranes available for both residential and commercial jobs, choose Mighty Cranes for your next lift. The size and speed of our mobile franna cranes makes them ideal for lifts with limited space and time frames. Call Mighty Cranes today for a free quote on your next lift. For more information on our entire mobile crane fleet visit our mobile cranes page.
Free Quotes
If you want to hire a Franna crane  today, or even if you are not sure which crane you need, call us today on 0477 000 976 or contact us through the form below. We can meet you on-site for a FREE quote, including the initial consultation and designing a lift plan specific to the job.
Mighty Cranes – Hire Brisbane
Mighty Cranes offer crane hire services to the Brisbane, Logan and Redlands Bayside regions. We provide Franna crane hire and lifting solutions for all your lifting and rigging needs both commercial and domestic. We have a highly trained and fully insured team of crane operators and fully equipped Franna cranes for hire. With Mighty Cranes you can be assured of maximum safety and efficiency to keep your next job on time and on budget.
Choose to work with Mighty Cranes
Mighty Cranes is one of Brisbane's leading crane companies as a result of the preparation put into every job we take on. With Mighty Cranes, the planning starts as soon as contact is made, before any cranes or equipment have been deployed. We offer a free quoting service where we attend the site and devise a comprehensive lift plan, as well as your customised quote at no cost to you.