Mighty Cranes is your Franna Crane Hire Company in Brisbane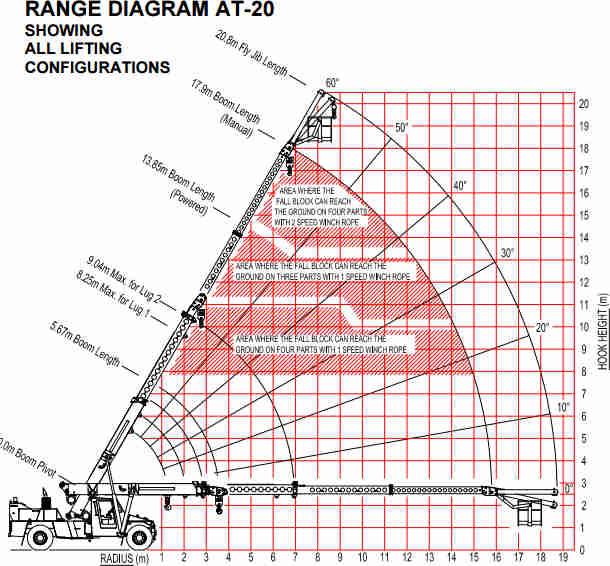 Franna AT20 Features
The Franna AT20 pick and carrying incorporates many new features which enhance safety, driver ergonomics and improved machine operations. With this machine you have the power, finesse and versatility to to lift almost anything anywhere.

Some of the many features are:
Hydraulic winch 2 speed with full hook compensation
Winch line pull with full drum 4.2 tonne and 2 speed winch
40 degree articulation each side of centre providing a total of 80 degrees of slewing arc
Boom head designed for maximum clearance for machinery installation
800 litre front mounted sling and tackle compartment with opening front and top doors for easy access
Front bonnet cover hinged to allow for full access to main hydraulics, pilot hydraulics and service points
3B6 load moment indicator with audio/visual overload pre-warning
Franna AT20 Crane Specifications
Rated Capacity:

20 Tonne at 1.4m Radius
1.60 Tonne at 15.8m Radius
Max Hook Height 17m
Fall Block (4 Parts) capacity 16.8 Tonne
Single Line 4.2 Tonne
Axle Loadings:
Front Axle 8000 kg
Rear Axle 11,500 kg
TOTAL 9,500 kg
Dimensions:
Overall Length 9.67 metres
Overall Width 2.5 metres
Overall Height 3.07 metres
Boom and Hydraulic Winch:
4 sections boom with 4th manual, 4.2 tonne full drum line pull winch with, 4 part fall block or single line, fully compensated hook height when telescoping boom 1 and 2 machinery hook.
Hydraulic Pump
Load sensing axle piston
Maximum pump flow rate 126 litre/min
Maximum working pressure 250 Bar.
MIGHTY CRANES – HIRE BRISBANE
Mighty Cranes, which services the Brisbane, Logan and Redlands Bayside regions, offers Franna crane hire solutions for your mobile lifting requirements. Our Brisbane crane hire team is fully insured providing leading Franna cranes and trained operators to ensure your next lift is planned & safe for minimal time waste and cost efficiency.