Mobile cranes can be used to quickly and efficiently complete heavy lifting jobs, cutting down on labour hours and saving you time and money. However, when it comes to operating cranes and any other machinery, safety should be the number one priority. Read on for our top tips to creating a safer and more productive job site.
Ensure Operators Are Trained And Licensed
It should go without saying that it is absolutely essential that anyone operating a crane is fully trained and licensed. Although mobile cranes are much smaller than other types of cranes, they have a massive lifting force that, in the hands of an untrained worker, can become a deadly weapon.
Conversely, when operated correctly a mobile crane can safely be used to cut down on material handling and labour hours. Ensuring that anyone operating a crane on site is fully licensed and qualified will keep your job site compliant and ensure that the job is completed safely and efficiently.
Double Check The Load Is Secure
The top cause of all crane related accidents is improper loading. The few extra minutes that it takes to double and even triple check each load before it is lifted can literally save a life. By neglecting to check that the load is safely secured you are putting your project, your workers, and yourself at risk.
It is best to have a designated supervisor to check that each item is secure (including small, seemingly insignificant items) before every single lift to ensure the safety of everyone on site.
Allow Enough Room For The Crane To Operate
Mobile cranes are known for their compact size which can be beneficial when working in tight access areas. However, it is still important to allow enough room for the crane to operate safely. This includes clearance from nearby obstructions as well as a clearly marked off area where workers cannot enter while the crane is operating.
If you work on a construction site say in, day out, the sight of a crane is nothing new. However, this can cause workers to become complacent and overconfident when it comes top crane safety. That's why it is essential to always enforce a safe working perimeter and to regularly reinforce the importance and danger involved with crane lifts.
The space needed will vary depending on the type and size of crane as well as the length of the boom and the height of the lift. Clearly marked barriers should be set up to prevent workers, contractors, and site visitors from accidentally wandering into the area during a lift.
Allot Enough Time For A Safe Lift
Most construction projects run on tight schedules with strict deadlines, however, one thing you definitely don't want to rush is a crane lift. As with any piece of heavy machinery, rushing or taking shortcuts is never a good idea.
Lack of attention to detail when it comes to crane lifts can be deadly. So, take the time with every lift to clear obstructions, check the load, and ensure that it is safely under the maximum load weights for the lift.
Safety First Crane Lifts Brisbane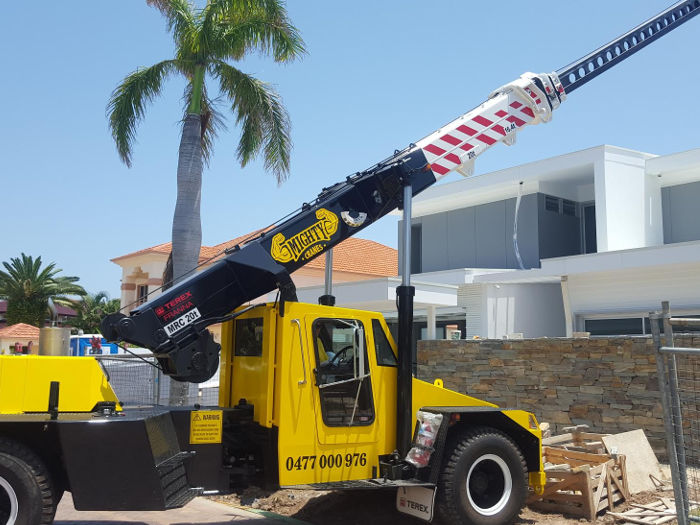 Mighty Cranes has a team of highly qualified, fully insured, and experienced crane operators. We are well aware of the dangers of crane operation and we make it our business to ensure the safety of each lift through safe and efficient operation. If you want a crane hire company with experience across a wide range of industries and a fleet of versatile mobile cranes available 24/7, Mighty Cranes is the solution.
Call us today on 0477 000 976 for a free quote and comprehensive lift plan.