Spa Relocation | Crane Hire Brisbane
Have you recently purchased a spa only to find that it was delivered to your driveway with no way of moving it to the desired spot?
Have you've just moved into a new home to find that the previous owners have left behind an undesirable, heavy outdoor spa.
Or are you moving house and not willing to leave your prized hot tub behind?
Whatever the situation, moving a hot tub is no easy task seeing as they weigh a tonne, literally. Luckily, Mighty cranes are highly experienced in all types of domestic lifts including pool and spa removal.
A hot tub is a sizeable investment so the last thing you'd want is for it to become damaged before it has even been installed. Though they may seem sturdy, hot tubs are made with motors and multiple electric components that may become damaged when handled incorrectly. Don't let an attempted move with a group of well-meaning friends and family members turn into a hot tub nightmare. Hire a professional.
It's not uncommon to get carried away in the excitement of buying a spa without considering the logistics of it all. However, this is how many homeowners end up with a spa in their driveway that definitely won't fit through the small gap between their house and their fence. In situations like these, the only way to go is up.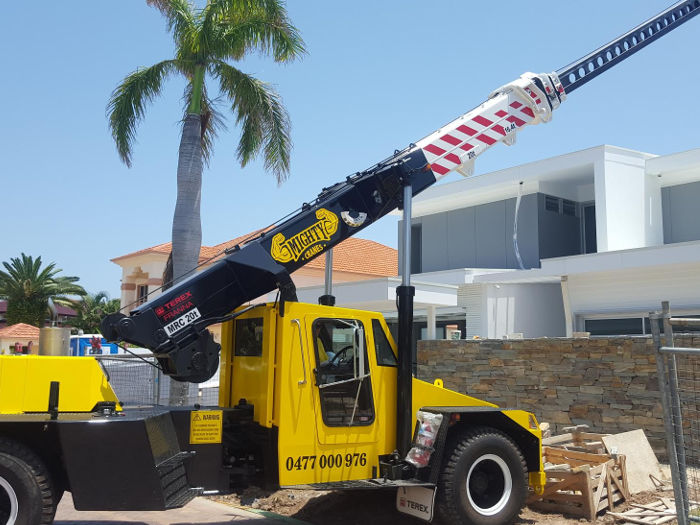 That's where crane hire comes in. A professional crane hire company can lift your new hot tub over your house and into place within inches of where you want it. And with expert rigging and experienced crane operators, you can rest assured that there will be no damage to your house or property.
Mighty Cranes have a versatile fleet of mobile cranes for hire that are able to be driven on roads for a speedy arrival and requires little to no setup. Our mobile cranes are ideal for residential lifts where space is limited and precision is key. Call Mighty Cranes today for a free quote on 0477 000 976.