Each crane is designed to perform a specific task. Whether you need a precise lift for a job with limited access or a crane that is capable of off-road travel, there is a crane to suit every job. In fact, there are many tasks that can be completed by any crane. However, choosing the right crane for the job, and even the right crane hire company, can be the difference between finishing a job on time or blowing the budget.
There are many factors to consider when deciding which crane is best for the job including:
Maximum Height & Load
An obvious factor to consider when choosing which crane is best for your job is the maximum height that your load will be lifted to.
When choosing a crane based on height, it is important to factor in that the maximum load capacity of a crane is not calculated from when the crane is at its maximum height. This is because the load that a crane can bear is reduced as the height of the lift increases.
The easiest way to ensure that you choose a crane that will meet the height and load requirements of the job is to take advantage of the knowledge and experience of your chosen crane hire company. However, if you are trying to calculate the load capacity and height requirements of the crane yourself you will need:
The maximum height that the load will be lifted to
The maximum weight that needs to be lifted
The crane load chart of the chosen crane (In most cases these are available for free download from the crane manufacturer's website)
To find out if your chosen crane is capable of completing the job, simply find the height of the lift your require on the load chart and you will see the maximum load capacity at that height. If the weight of your load is equal to or less than the maximum load capacity, then the crane meets the requirements for your lift.
If you're not sure which crane meets the requirements of your lift, contact Mighty Cranes. Our team of experienced crane operators can recommend the right crane for the job.
Ground Condition & Access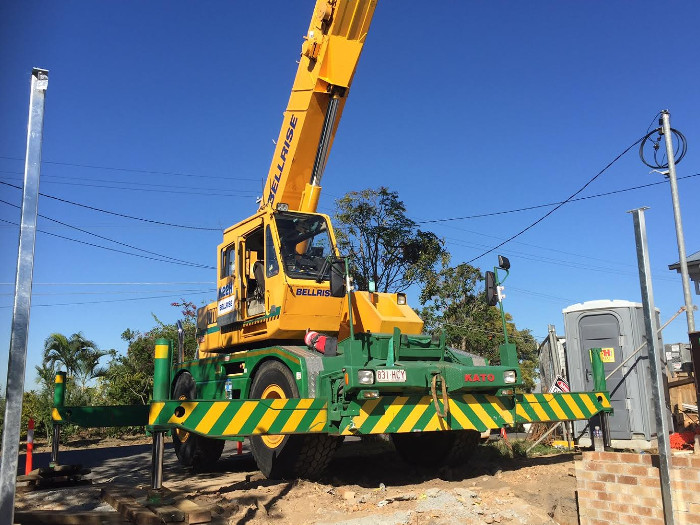 Another factor to consider when deciding which type of crane to hire is the condition of the ground at the job site, and how the crane will access the site. If your job site is on a concrete slab with full road access, a Franna crane will easily be able to access and lift on the site.
Conversely, if the ground is grass, dirt or uneven, you may need an all terrain or even a rough terrain crane. Similarly, job sites that have no road access will require an all terrain capable vehicle in order for the crane to reach the site without additional transport.
Surrounding Obstacles
Before hiring a crane, it is a good idea to identify any surrounding obstacles that may obstruct a crane lift. This could be anything from a power line to an entire building. Advising the crane hire company of these obstacles will help them to suggest the best crane for the job.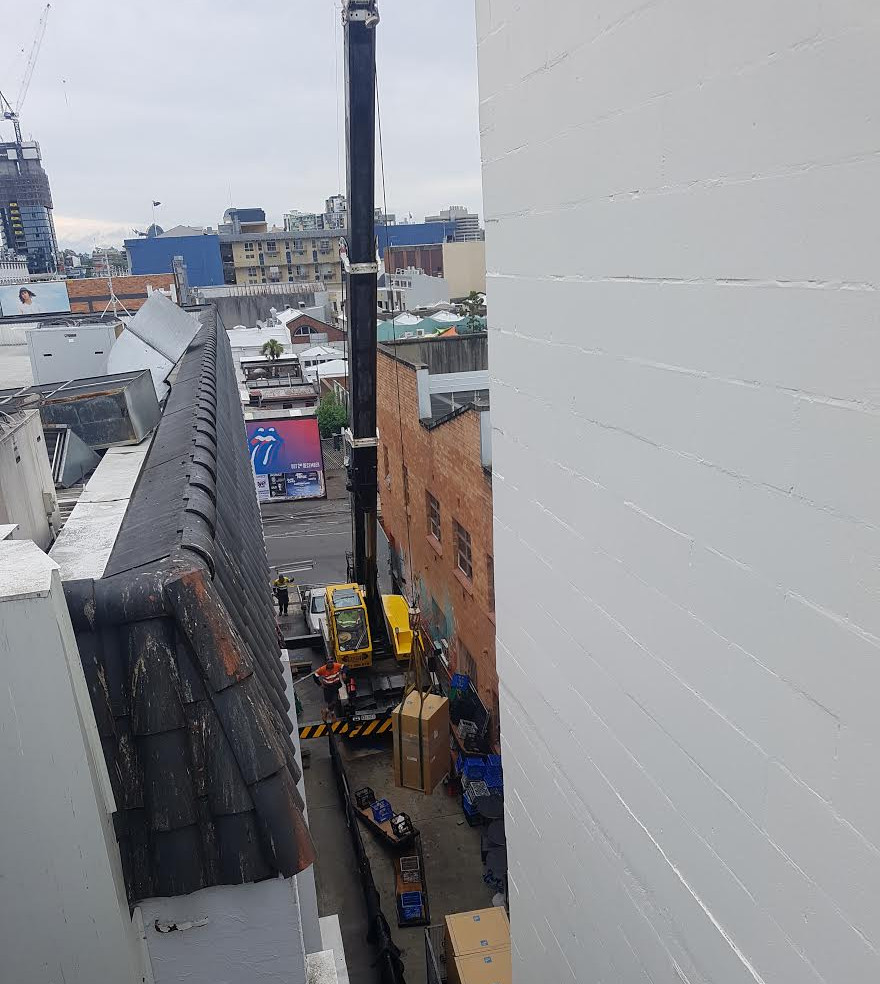 For lifts with close by buildings or tight-access, a franna crane is a great option for a precise lift in a tight access area.
How Will The Crane Get To The Job Site?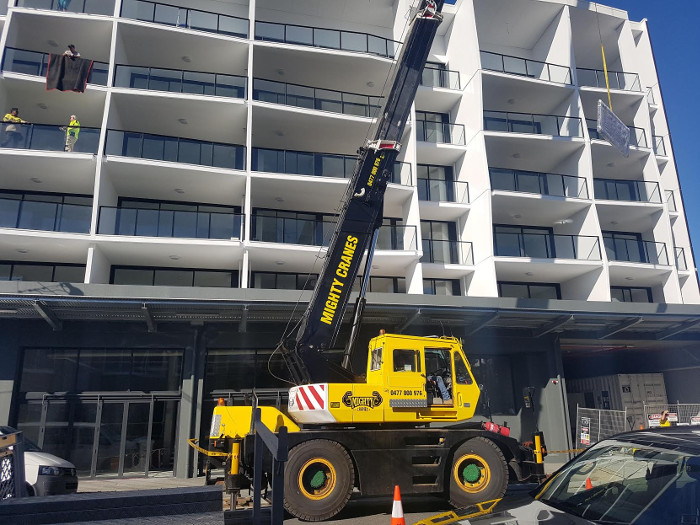 Before hiring a crane, you may also want to look into how the crane will reach the job site. For instance, a larger crane would need to avoid any low bridges or low clearance routes. This means that on an emergency or time sensitive call out, the crane may take longer to reach the site than anticipated. Additionally, some cranes are not able to travel on roads and require additional transport.
Mighty Cranes have a versatile fleet of cranes including roadworthy cranes with high on road speeds and quick set up times that are ideal for time sensitive lifts.
Choosing A Crane Company
Choosing the right crane company can save you money and increase the safety of the lift. When choosing a crane company there are a few factors that you should consider to make sure they are the best fit for your requirements including:
Experience – Are their crane operators well-trained and experienced? One way to verify this is to check the reviews of the crane company. It is also important to ensure that their crane operators are fully licensed and insured for the job.
Another thing to consider is whether or not their crane operators are also trained in rigging or if that is your responsibility to organise.
Availability – When choosing a crane hire company you will need to factor in their operating hours and if they match up with your requirements. If you have a job that could require lifts outside of business hours, ensure that your chosen crane company will give you access to a crane and operator 24/7.
Location – The last thing to consider is the location of the crane yard. It goes without saying that the closer the crane is to the job site, the better, as you will pay less in travel costs. However, this can also mean the difference between finishing a job on time or not as the crane will be able to reach your site quickly when required.
Choose Mighty Cranes
Mighty Cranes will do everything to make sure that your next job runs as smoothly as possible, including recommending the best crane for the job. That's why if your job is more suited to the use of a tower crane, we will be more than happy to refer you on to a quality Brisbane tower crane hire company.
Our local fleet of cranes and highly trained crane operators are on call 24/7. We can also arrange to meet on site, assess the lift and provide a quote and a comprehensive lift plan at no cost to you. Call Mighty Cranes today on 0477 000 976.