Mighty Cranes is your City Crane Hire Company in Brisbane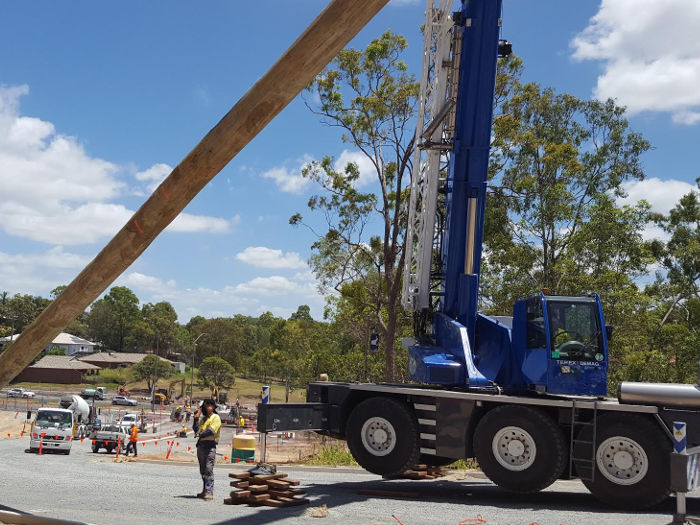 CITY CRANE HIRE – DEMAG AC 55TON
Mighty Cranes offer professional Brisbane City crane hire services at competitive prices. Our mobile fleet are compact and versatile and are able to get to any job quickly and complete any job efficiently. We keep our experienced crane operators on call 24/7 both for emergency crane hire, and to ensure your next job is completed on time.
Demag AC 55 Ton Specs:
55-TON lift
3 axle crane
Multi-wheel drive and steering
Compact & versatile
Crane stabilisers Front and Rear
ALL TERRAIN CRANE HIRE
All terrain cranes are specifically designed for operation in job sites where other mobile cranes cannot operate. Hire our Demag AC 55Ton all terrain crane today. The Demag is fitted with off-road tyres and an all wheel drive suspension system that allows access to the toughest of job sites. The Demag AC is designed to work on any terrain, whether you're working a job with unaltered surfaces or no road access at all. With the crane stabilisers based at the front and rear we can create a stable lift in most environments.
CHOOSE MIGHTY CRANES
Our are experienced team are trained in both crane operation and rigging to ensure a safe, efficient lift every time. We create custom lift plans for every job for maximum safety and precise results. Call 0477 000 976 today for your free quote.
24/7 ALL TERRAIN CRANE HIRE
We have all terrain cranes available for hire 24/7. With the versatility of an all terrain crane, you can hire a crane anytime, anywhere. Whether you need an emergency lift or just the flexibility of having a crane on standby, choose Mighty Cranes. Plus, the Demag AC is a legal road vehicle. Combining that with the high on road speeds and minimal setup time of our mobile cranes means that you can have a crane on site and ready to lift in no time.
Get a Quick Quote
Free Quotes
We plan every lift and we're able to meet you on-site for a free quote, consultation and lift plan ensuring you have the right team for your next lift.
Mighty Cranes – Hire Brisbane
Mighty Cranes, which services the Brisbane, Logan and Redlands Bayside regions, offers All Terrain crane hire solutions for your mobile lifting requirements. Our Brisbane crane hire team is fully insured providing leading All Terrain cranes and trained operators to ensure your next lift is planned & safe for minimal time waste and cost efficiency.
The benefit of using Mighty Cranes is the preparation we put into any lift. We're involved in planning well before we arrive on site with our crane and equipment. We can arrange to meet on site free of charge to provide a quote and comprehensive lift plan.