Mighty Cranes is one of Brisbane's leading crane hire companies. We are based locally in Capalaba and offer reliable crane hire Brisbane South. Being Brisbane based, our team of fully licensed crane operators know the area like only locals can. This translates to speedy arrivals to your Brisbane job site.
Mighty Cranes provide crane hire services to the building, mining and boat building industries, however, no job is too small! We also provide lifting and rigging services domestically, for everything from lifting a spa onto the back deck, to helping you move bulky furniture into an apartment building.

As we are Brisbane based, we can provide crane hire services Brisbane wide. We service North Brisbane, South Brisbane, Logan, and Redlands Bayside. This means you can use one company for all of your Brisbane based jobs. This will give you the benefit of improved communication between all of your projects. And with our experienced team on call 24/7, you can meet deadlines without the added stress of having to work inside business hours.
Our reputation of return customers is built on reliability and customer satisfaction. Each of our mobile cranes have quick setup times and fast on road speeds that will keep your next lift on time and in budget.
Are you looking for a reliable and cost-efficient emergency Brisbane crane hire solution? Call Mighty Cranes on 0477 000 976 today for a free quote and comprehensive lift plan.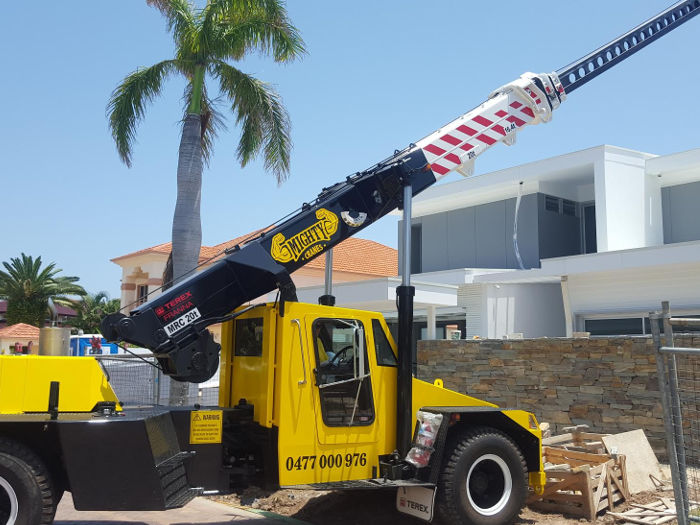 Our versatile Brisbane crane hire fleet includes both Franna cranes, rough terrain cranes and city cranes allowing us to provide crane hire services to any Brisbane construction or job site.
The mobility and size of our Franna Crane make it suitable for any project requiring mobile crane hire. They are compact and versatile, available for use on any job site and perfect for a quick response to emergency Brisbane Crane hire.
City Crane Hire
The versatility of our all terrain city crane makes it the perfect crane for use in any working conditions found in Brisbane and surrounding suburbs. Our Brisbane city crane is able to perform a stable lift in almost any environment due to the crane stabilisers at both the front and rear.
Construction Projects
Due to the booming construction industry in south-east Queensland, Brisbane crane hire is an expanding industry. As such, Mighty Cranes offer a wide range of services and equipment for crane hire Brisbane south and are available and well equipped to service any construction site, big or small, in Brisbane and surrounding regions.
Our Brisbane Crane Hire Fleet is suitable to almost every Crane Hire job, specialising in air conditioning plant lifts and emergency crane hire Brisbane. We work alongside some of Brisbane's leading commercial air conditioning companies, providing them with specialised AC plant lifts through our crane hire service.
Mighty Cranes' Brisbane Crane Hire services are available 24/7, accommodating all your emergency crane hire needs. Whether you need 24/7 availability crane hire for your job or a quick response to an emergency call out, we can provide quick, efficient and reliable crane hire services to any job site in Brisbane and the greater Brisbane region.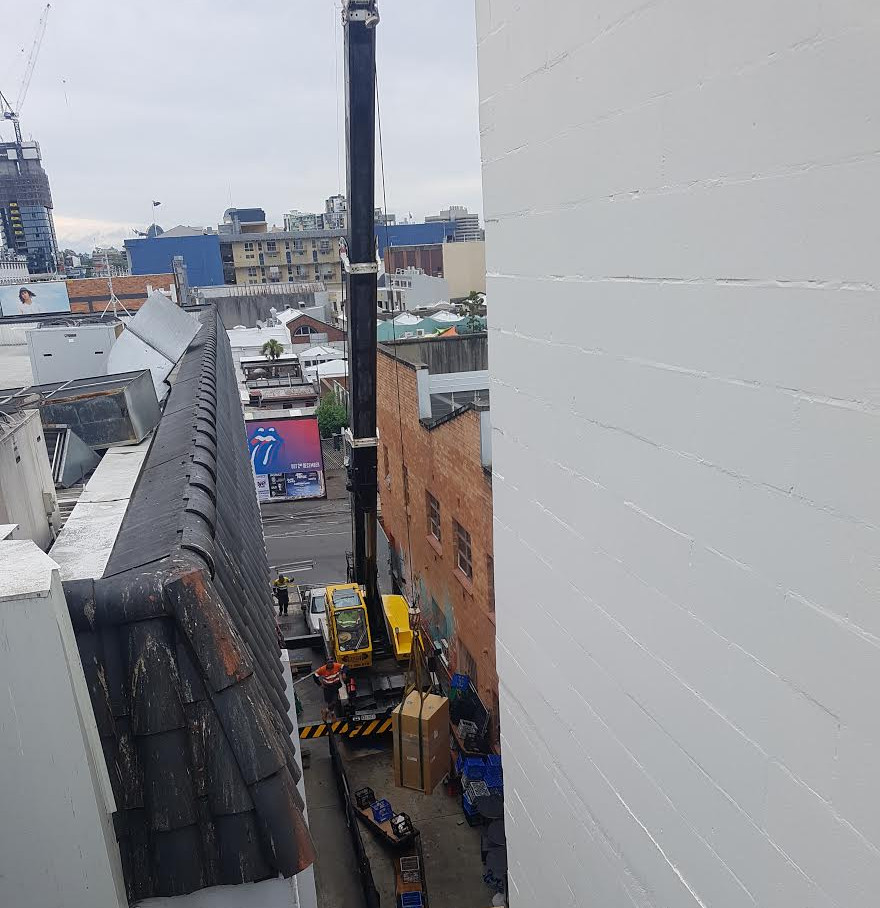 Free Quotes
We plan every lift and we're able to meet you on-site for a free quote, consultation and lift plan ensuring you have the right team for your next lift.