Air Conditioning Installations | Step-By-Step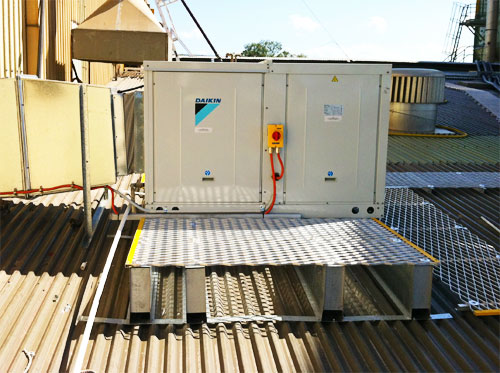 Well known for our sweltering hot summers, it's no wonder why air conditioning has become a necessity in many Queensland homes. So we've created an easy to follow guide to air conditioning installations from choosing the location of the unit to crane lifts. Follow our step-by-step process to ensure your air conditioning installation goes as smoothly as possible.
Step 1: Select A Location
The first thing you will need to do when planning the installation of your new air conditioner is choose the location. This not only refers to the room you want to cool, but also where in that room (and outside for the outdoor unit) the air conditioner will be installed.
Indoor Unit:
When choosing a location for the indoor unit you will need to select an unobstructed wall that allows a minimum of 15 centimetres clearance around the top and sides of the unit. The indoor unit should also be positioned at least 2.1 metres above the floor for maximum efficiency. The chosen location should ideally be away from direct sunlight and other heat sources to extend the lifetime of the air conditioner.
Another consideration is the strength of the chosen wall as it will need to hold the weight of the unit. In some cases a wooden or metal frame may be required to provide additional support.
The most common installation type for split system air conditioners is to mount the indoor unit on an external wall to allow the outdoor unit to be installed on the opposite side of the same wall. This means that the installations will require minimum wiring and piping for reduced installation costs and minimal heat loss.

Outdoor Unit: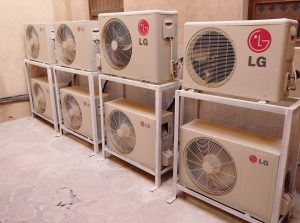 Outdoor units are typically installed on the ground, however, for homes with less outdoor space it may be more convenient to mount the outdoor unit on the wall or roof.
If the unit is going to be installed on or near the ground it is important to choose an area with low foot traffic that is not too dusty or hot or prone to flooding. For best results there should be at least 30 centimetres clearance around the top and sides of the unit.
Another thing to consider when choosing the location of the outdoor unit is noise. Because the outdoor unit contains the loudest components of the air conditioning it is important to choose a location that is not too close to neighbouring houses. Additionally, as air conditioners age they become less efficient and louder which should also be considered when determining how close the outdoor unit is to neighbouring houses.
For townhouses and other buildings that are very close together or even share external walls the unit may need to be installed on the roof to reduce noise levels.
Step 2: Installer Visits Site
Once you have decided where the unit will be located you will need to hire a professional air conditioning installer. Most installers will visit the site for free to plan the installation and check that the chosen installation position will work.
This initial visit will allow the installer to fully plan the lift including any additional equipment that will be required and provide an accurate quote for the job.
Step 3: Necessary Equipment Is Hired
One step of an air conditioning installation that is often not considered is how the heavy HVAC unit will get into position. In many cases this will require a crane.
For example, if your old air conditioner is roof mounted then a crane will need to be used to remove the old unit. Additionally, the new unit will likely be roof mounted as well, requiring a crane to hoist the unit into place. Although in some cases it is possible to remove an old roof mounted air conditioner without a crane, there is no workaround for installing a new roof mounted unit without potentially damaging the air conditioner and roof as well as posing serious health risks to the installers.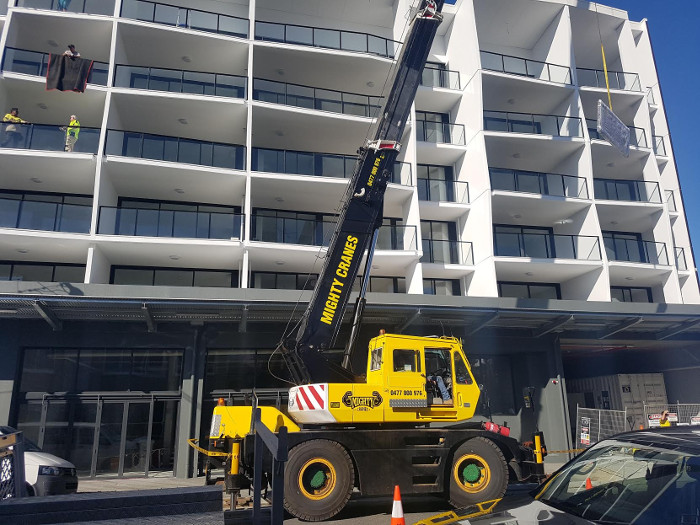 Another installation that will require a crane is for large houses or office buildings that require a commercial air conditioning unit. As these units are typically much larger and harder to maneuver than residential units, a crane is generally required for the installation.
You may also need to hire a crane if the new or old air conditioning unit is located in a hard to access place where the walkway is narrower than the actual unit.
Step 4: Installation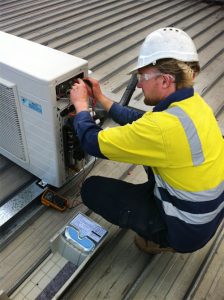 Once the position of the new unit has been decided and the lift has been planned down to hiring a crane company and choosing a date, it's time to install your air conditioner.
All you need to do for this is be home at the agreed upon time to let the installers in and then sit back and relax as a straightforward split system installation should only take around half a day at most.
Most air conditioning installation companies will also remove and dispose of your old air conditioning unit for free.
Step 5: Aftercare
Many homeowners think that once the air conditioning unit has been installed that's the end of it. However, in order to get the most out of your air conditioner, you need to ensure that it is regularly cleaned and serviced. Most air conditioning companies will offer maintenance plans so you can book it and forget about it until your next service.
Top Tip:
Before the installers leave, ask what type of filters your air conditioner uses and how often they need to be cleaned or replaced.
Mighty Cranes offers air conditioning lifts Brisbane wide at competitive prices. If you're looking for reliable crane hire with crane operators experienced in both commercial and residential lifts call us today on 0477 000 976.

Having performed countless air conditioning lifts in Brisbane, we know that when it comes to air conditioning there's only one number you should call. If you need quality air conditioning services anywhere in Brisbane call Advanced Climate Solutions on 07 3206 3542 today or click here to visit their website.