Crane Hire For Tree Removal
Mobile crane hire is not often the first thing that comes to mind when planning a tree removal. However, when the structure of a tree is compromised, whether through years of rot or mistreatment, simply hiring an arborist to cut the tree down may not be an option. This is also the case for very large trees where the roots are widespread making removal more difficult.
In some cases when the tree is too large for conventional tree removal or a more complicated removal is needed, mobile crane hire is the way to go. Using a crane to assist in tricky tree removals will ensure that the job is completed safely and efficiently for maximum customer satisfaction.
Mobile Crane Assisted Tree Removal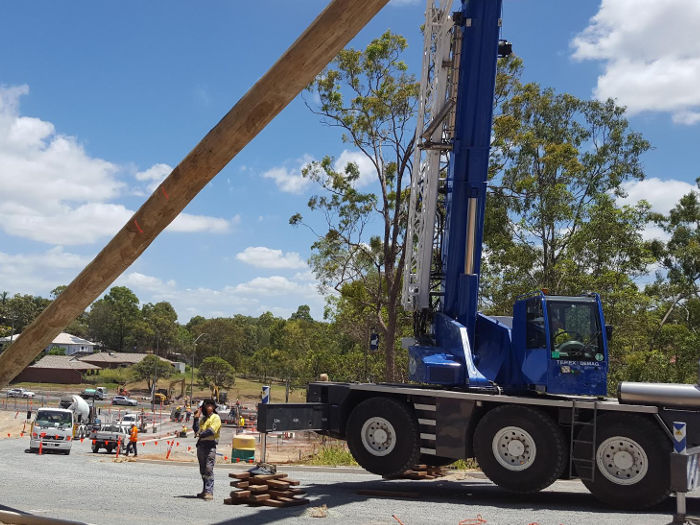 Comprehensive Lift Plan
One benefit of opting for mobile crane assisted tree removal is the amount of planning that goes into the job before the tree removal begins. Prior to the lift, a qualified crane operator will create a comprehensive lift plan based on the job and site. This includes an analysis of elevation, grade changes, and distances, deciding on the best position for the crane, identifying and planning for nearby obstructions such as power lines, trees and buildings, and choosing the right crane for the job to ensure a quick and safe lift.
Mighty Cranes offers a free quote and comprehensive lift plan service to ensure that your next lift goes off without a hitch and is well-planned before the crane ever arrives on site, saving you time and money. Call us today on 0477 000 976 for more information.
Safe & Efficient Removal
Professional planning of the lift before the crane is ever on site will ensure that the lift is performed safely and efficiently. Mighty Cranes has a team of highly trained and qualified crane operators experienced in a wide range of lifts in both residential and commercial applications.
When it comes to ensuring a safe and efficient crane lift, we're the experts. Our compact mobile cranes are ideal for residential lifts where space may be limited. We also offer all terrain and rough terrain crane hire to safely perform lifts in areas with no road access and/or uneven surfaces.
To ensure that your tree removal goes smoothly saving you time and money, contact your local Brisbane crane hire specialists at Mighty Cranes.
Tree Dismantling
Once the tree has been safely removed from the ground, your tree arborists will be able to easily cut it down to size with specialised tools for easy removal from site, leaving your yard looking fresh and clear.
Affordable Crane Hire Brisbane
Mighty Cranes offers affordable crane hire Brisbane wide, no job is too big or small. Whether you need a tree removed, pool installed, or an air conditioning plant lift, Mighty Cranes has the solution. Call us today on 0477 000 976 and ask about our free quote and comprehensive lift plan offer.