Mighty Cranes offers affordable mobile crane hire for all of your lifting and shifting needs. We have a range of versatile cranes including a 20-ton Franna pick and carry crane, a 22-ton Kato rough terrain crane, and a 55-ton Demag all terrain crane, with larger cranes available on request. Based in Brisbane, Mighty Cranes proudly offers quick response crane hire Brisbane wide.
Our team of highly trained crane operators are fully licensed and insured to ensure that your lift is performed as quickly and safely as possible. Unlike other Brisbane crane hire companies, Mighty Cranes has operators and cranes available for hire 24/7 for emergency lifts and lifts that require flexible working hours.
Need A Lift? Call Mighty Cranes
Our crane operators are experienced in a range of domestic lifts such as lifting:
Shipping containers
Demountables
Granny flats
Gardening supplies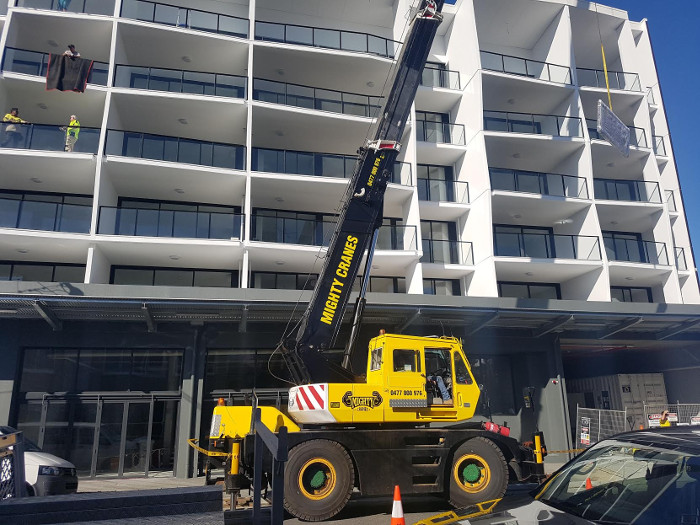 We can also lift heavy, oversized furniture into an apartment building – a great alternative to struggling to get your furniture through the door of your apartment and potentially damaging your furniture and the property. Whatever your lift and shift needs, Mighty Cranes has got you covered.
Versatile Fleet
Mighty Cranes has a versatile fleet of cranes for hire Brisbane wide including a Franna crane, an all-terrain crane, and a rough terrain crane. Our 20-Ton Franna is ideal for tight access lifts where maneuverability is a must. Plus, as a pick-and-carry crane, our Franna can be used to lift heavy objects and carry them to the desired position.
Our Demag AC 55-ton all terrain crane and our Kato 22-ton rough terrain crane are ideal for jobs with limited accessibility. For example, if there is no road access to the site of the lift as they are built with off road tyres and crane stabilisers for a safe lift on almost any surface.
Whether you require a tight access lift or have no road access, our versatile fleet of cranes has got you covered. We also have larger cranes available for hire on request.
24/7 Availability
Our versatile fleet of mobile cranes and experienced crane operators are available for hire 24/7 for all your domestic crane hire needs. From emergency lifts to out of hours jobs, we've got you covered. Located in Capalaba, Brisbane, we proudly offer quick response crane hire services Brisbane wide. Call Mighty Cranes night or day on 0477 000 976 for reliable crane hire at affordable rates.

Choose Mighty Cranes
Whether you're installing a new swimming pool in your backyard or you need emergency crane hire for a rolled car, Mighty Cranes has got you covered. Call Mighty Cranes on 0477 000 976 for all of your crane hire Brisbane needs.