Mighty Cranes provides quality lift and shift services to Coopers Plains and surrounding suburbs.  Our fleet of mobile cranes includes Franna cranes – ideal for jobs with limited access, rough terrain cranes – perfect for job sites with no road access or unaltered ground, and all terrain cranes – highly maneuverable and suitable for operation in a range of conditions.
Our team of experienced crane operators are fully licensed and insured to ensure your next job is completed safely. Plus, with minimal crane operators on call 24/7, we offer flexible crane hire suited to any job. For 24/7 access to our versatile fleet of cranes and experienced operators, you can rely on call Mighty Cranes today on 0477 000 976.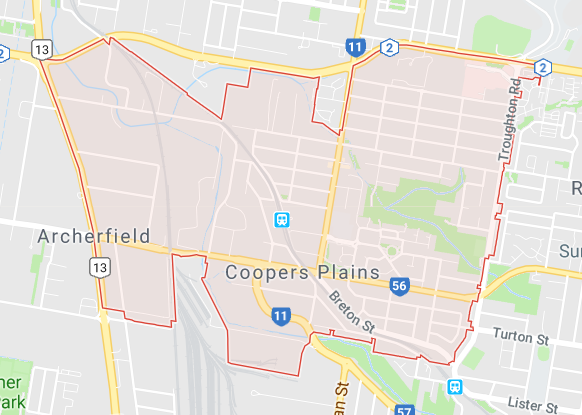 CRANE HIRE COOPERS PLAINS
Coopers Plains is a southern suburb of Brisbane city, located 11km from the CBD. The suburb has its own railway station on the Beenleigh line. There are also several bus routes running through Coopers Plains including direct lines to the city, Garden City Westfield and Sunnybank. Coopers Plains is also home to its own public library that was recently refurbished in 2014.
Surrounding suburbs of Coopers Plains include Rocklea, Sunnybank, Acacia Ridge, Salisbury, and Archerfield. Just a 30 minute drive away from the heart of Coopers Plains, Mighty Cranes offers 24/7 crane hire Coopers Plains wide. Whether you're relocating a backyard spa or building an apartment building, call Mighty Cranes on 0477 000 976 for all of your Coopers Plains crane hire needs.
Whether it be a fallen tree or a rolled car, call Mighty Cranes on 0477 000 976 for emergency crane hire 24 hours a day. Mighty Cranes is locally based in Capalaba for a quick arrival to any Coopers Plains job site. And with operators on call 24/7 you can rest assured that we will have the right crane on site as soon as possible. Call Mighty Cranes for all of your emergency crane hire needs.
24/7 Service
Experienced Operators
Emergency Hire
Fully Insured
Tight Access Lifts
Do you have a job that requires high levels of maneuverability and precision? Call Mighty Cranes. Whether you need a 20-ton Franna for a tight access job or a 55 ton all terrain crane for a job with no road access, we've got you covered.  Plus our crane operators are each highly experienced in both rigging and operation in order to keep your next lift as precise as possible. Tight lift? No worries. Call Mighty Cranes on 0477 000 976.
FREE QUOTES
We plan every lift and we're able to meet you on-site for a free quote, consultation and lift plan ensuring you have the right team for your next lift.
 Need A Mobile Crane Company? We Cover A Wide Range Of Services:
Sheet metal roofing
Frame lifts
Demolition & decommisioning
Mine works
Tunnels
Road infrastructure
Emergency
Railway maintenance
Material lifts
Dual lifting
Gas vessels
Accident recovery
Power grid installations
Portable buildings
Glass panel installation / removal lifts
Insulated roof sheets
Bridges
Stadiums
Removing structural steel
Modular homes
Lifting boulders
Wood Chipper Lifts
Spa installation and removal
Residential
Commercial
HVAC / Air Conditioning Installations
Awnings